What You Didn't See on TV at the 2010 MTV VMAs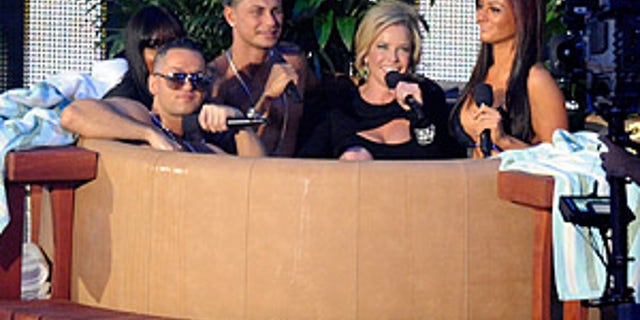 From Kanye West's ballerinas to Lady Gaga's meat dress (and Cher's lack of one), the 2010 MTV Video Music Awards telecast has given us a lot to ponder. But not every memorable moment happened on-screen. And the cameras didn't capture everything that went down inside the Nokia Theatre on Sunday.

Fortunately, TVGuide.com was there. Here are the top 8 things you didn't see on TV:

1. Bieber Fever? Not so much for eventgoers. While Justin Bieber performed his hit "Baby" outside, many inside made a beeline for the bathroom. The Bieb shouldn't feel too bad though; the crowd was just as blasé about Florence and The Machine's soulful shout-along, "Dog Days Are Over."
2. Proof awards for music videos don't matter. Host Chelsea Handler's first mention of Jersey Shore drew wild applause. "No, no, no, don't applaud!" she said. "They're the reason MTV doesn't play your videos." No one fist-pumped to that, but no one booed either. Everyone's there to enjoy the free concert.
3. The Jersey kids didn't come out of that hot tub. The cast was pre-loaded into the jacuzzi before it was rolled on stage. When their bit with Handler — who came out of the pool pregnant — was over, they were rolled out. We'll never know what The Situation was wearing under there, thank goodness.
4. Kanye won the throwdown. The audience chanted his name at the end of his number, an ode to D-bags, A—holes and, essentially, everyone who's ever made a mistake. Taylor's song, in contrast, was tough to decipher in-house, but it sounded something like an earnest lesson in forgive-and-forget. It also sounded off-key.
5. That was Robyn, not Pink. Those of us in the cheap seats were momentarily confused. Once Robyn started singing, however, we realized the error.
6. Lady Gaga won't be tied down. She may have changed her outfits three times, but the night's big winner wasn't in the mood for too many photos. Apparently, she snapped at some photographers trying to get her attention backstage: "Stop booing me, you twits!"
7. Rise for Mary J. Blige. Outside of Kanye, she was the only performer to get the crowd (full of jaded, Hollywood types) up on their feet. There was also a grand reception for the night's best performance: Eminem and Rihanna with "Not Afraid" and "Love the Way You Lie."
8. No one goes thirsty. Celebrities seated in the sweet seats on the floor were catered to throughout the night. Waiters came by periodically with trays of alcohol. Everyone else was taken care of, too. They just had to make their way to the open bar.
View original What You Didn't See on TV at the 2010 MTV VMAs at TVGuide.com
Other Links From TVGuide.com