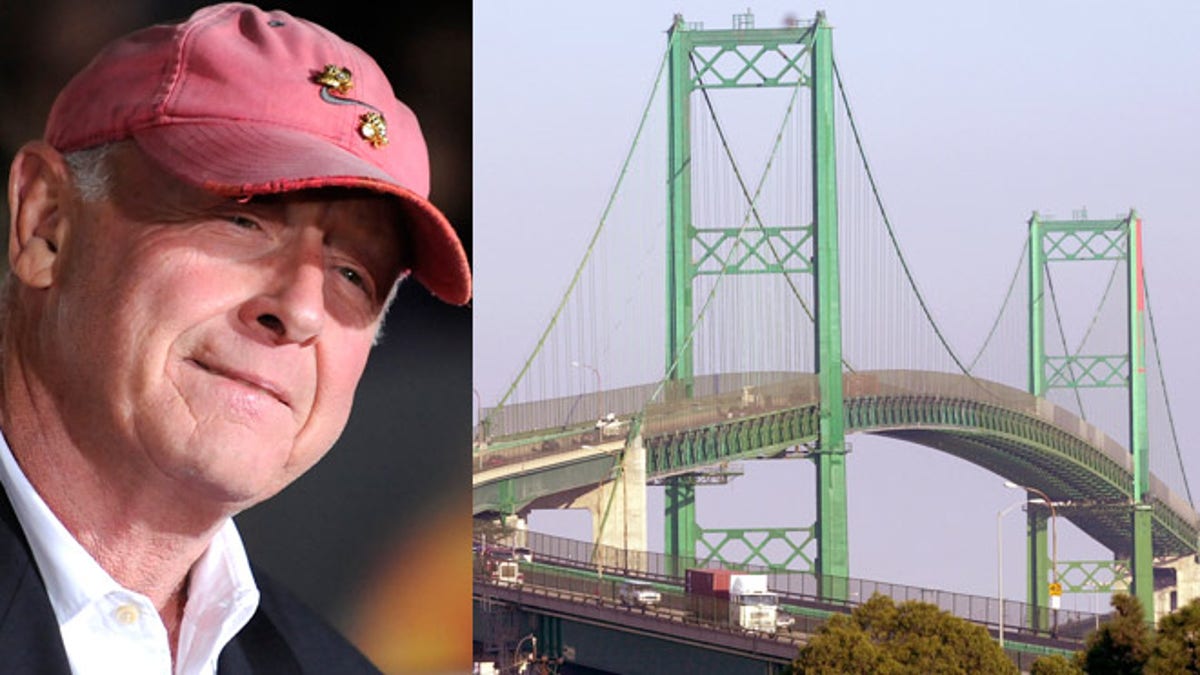 Director Tony Scott's deadly plunge off of a 180-foot tall bridge spanning the Los Angeles Harbor has stunned friends and fans, and left Hollywood buzzing about what could have prompted one of the industry's more successful filmmakers to take the leap.
And now at least one video recording of that jump, taken by an onlookers on a cell phone, is up for sale to the highest bidder.
Several passersby and a security camera at a nearby business captured Scott jumping from the Vincent Thomas Bridge in San Pedro, TMZ reports, saying one of the videos is being shopped. So far the video has not appeared in public on any outlet.
The bridge is a favorite filming location for action directors, although Scott apparently never used it for one of his films.
Meanwhile, the question of "why" remains. Scott, 68, was busy with several projects, including the sequel to perhaps his best known film, "Top Gun." Scott's autopsy and notes he left for loved ones will offer investigators clues, but any answers that authorities obtain will not be released for several weeks.
The avid rock climber directed more than 15 movies that included such unforgettable sequences as the dog fights of "Top Gun" and the raw power of a runaway train in "Unstoppable."
As a director and producer, Scott worked with Hollywood's top actors, including Tom Cruise, Denzel Washington, Will Smith and Robert Redford, and helped influence a generation of action buffs.
Cruise, who starred in "Top Gun" and confirmed he was working with Scott on the sequel earlier this year, said he'd lost a dear friend.
"He was a creative visionary whose mark on film is immeasurable," Cruise wrote in a statement. "My deepest sorrow and thoughts are with his family at this time."
Notes to loved ones were found in his Scott's and at another location, Coroner's Chief of Operations Craig Harvey said. The death was being treated as a probable suicide, but a formal determination could take a month or more as toxicology and tissue tests are completed.
In the meantime, investigators will look into Scott's health and whether any other factors contributed to his death.
"The family asks that their privacy is respected at this time," said Simon Halls, a spokesman for Scott and his older brother, Oscar-winning director, Ridley Scott.
The bridge where Scott jumped has appeared in "The Fast and the Furious," "Gone in 60 Seconds," "Charlie's Angels" and "To Live and Die in L.A." It has been used in filming 13 times since 2011, according to the California Film Commission.
Motorist David Silva told the Los Angeles Times that Scott appeared to hesitate before climbing a fence along the bridge, and again before leaping. He said fellow motorists at first thought the director was performing an extreme sports stunt, but quickly realized he didn't have a parachute or other safety equipment.
The brothers frequently collaborated on movies, and their company also produced the successful TV series "Numb3rs" and "The Good Wife." CBS, which aired both shows, said "one of the brightest lights in the industry has gone out."
Scott, who was born in Great Britain and lived in Beverly Hills, is survived by his wife, actress Donna Scott, who appeared in several of her husband's films, and twin sons. He had been planning a sequel to "Top Gun," the movie that helped propel him to other big-budget films.
Scott often said he got his greatest thrills from filmmaking.
"The biggest edge I live on is directing. That's the most scary, dangerous thing you can do in your life," Scott said in an interview about his 1995 naval adventure "Crimson Tide." "The scariest thing in my life is the first morning of production on all my movies. It's the fear of failing, the loss of face and a sense of guilt that everybody puts their faith in you and not coming through."
He was the first of the Scott brothers to enjoy blockbuster success with "Top Gun," the top-grossing film of 1986 at $176 million. Scott teamed with Cruise again four years later on the hit "Days of Thunder."
Ridley Scott later surpassed his younger brother's career in terms of hits and accolades, earning an Oscar for "Gladiator" and three best director nominations. Tony Scott never was in the running for an Oscar, and critics often slammed his movies for emphasizing style over substance.
He said he gained perspective by mixing things up between film, TV and commercials. "I like changing the pace of my life, changing my discipline. It gives me ideas for how to see the world differently," Scott said in a 2007 interview.
His work impacted a generation of actors and filmmakers, who praised him after learning of death.
"Shocking and devastating news," Christian Slater, who was directed by Scott in the 1993 film "True Romance," wrote on Twitter. "He was the best and will be greatly missed."
Gene Hackman, who worked with Scott on "Crimson Tide" and "Enemy of the State," said the director "was always sensitive to the needs of an actor. We've lost a wonderful, creative talent."
Filmmaker Robert Rodriguez wrote on Twitter, "Thanks for the inspiration, advice, encouragement, and the decades of great entertainment."
Justin Timberlake wrote on the site, "His movies made growing up more fun for me."