Victoria's Secret model Candice Swanepoel urges gals to wear less on the beach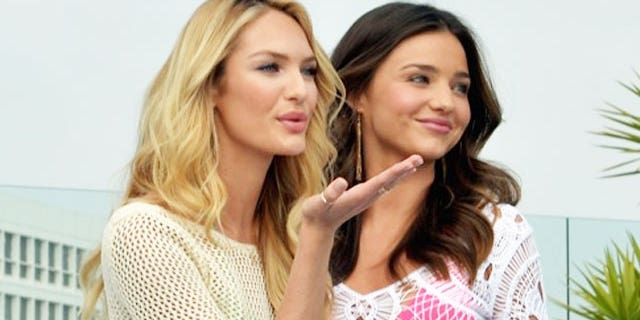 NEWYou can now listen to Fox News articles!
Last week, female beach volleyball contestants were granted the option to wear long-sleeved tops and shorts instead of bikinis in the forthcoming Summer Olympics.
But according to at least one swimsuit supermodel, less is best.
"This summer it's all about Brazil, and they've taken a lot of inspiration from Rio and how the women wear their swimsuits down there," Candice Swanepoel told FOX411's Pop Tarts column while launching Victoria's Secret 2012 Swim Collection in Beverly Hills. "People in Brazil are a lot more comfortable with their bodies and their sexuality (than in the U.S.) and it's more about having fun… In America, the backs are obviously larger, which I think should change. We are trying to change that!"
But how little is too little for our family-friendly stretches of sand?
PHOTOS: VS models wear teeny bikinis.
"I think it is whatever you are comfortable with, I like to wear them really tiny," Swanepoel continued. "But I had to get comfortable with that gradually."
[pullquote]
This year's VS swimsuit collection was inspired by the lingerie label's best selling Gorgeous bra, which, according to fellow Angel Miranda Kerr, gives women "an extra lift."
"I really love the neon prints at the moment, especially because I have got a bit of color so the neon works well. I used to be quite a classic girl, but it's nice to mix it up and have a bit of fun," she said. "It doesn't matter your shape, size or skin tone – there will be something to compliment."
However, new mom Kerr (married to Orlando Bloom) also recently released the teen self-help guide "Treasure Yourself" and told us she has two more books pending publication.
"I have another two books on the way, two very different books," she said. "But I tried to make the first one personal. Everyone is so different, but as women we all have similar experiences. We should empower each other to be the best version of ourselves that we can be."
Swanepoel, too, has career aspirations beyond modeling.
"I'd love to be a pop star – at heart," she laughed. "Obviously I wouldn't try because I would scare people, but I have concerts at home."
Eat your heart out Britney – Swanepoel does quite the impressive lip sync, courtesy of Modelinia.com.