Victoria Hearst says her family's Cosmopolitan magazine 'pornographic,' joins campaign to get it brown bagged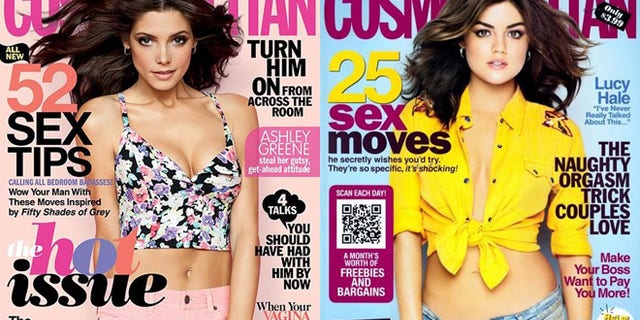 LOS ANGELES – Last year former model Nicole Weider embarked on a campaign to put Hearst Corporation's sexually explicit Cosmopolitan magazine in a wrapper and ensure that it is sold only to those over the age of 18.
Although Weider's Anti-Cosmo Mission is not yet "mission accomplished," the 26-year-old is continuing her fight, and has gained a powerful ally in Victoria Hearst, an heir to the Hearst publishing empire founded by grandfather, William Randolph Hearst.
"About 12 years ago, before the Lord told me to found Praise Him Ministries in 2001, I noticed how pornographic the content of Cosmopolitan magazine was. I telephoned Frank Bennack, head of the company, and told him Cosmopolitan should not be sold to minors and that I would like to address the board about it," she told FOX411's Pop Tarts column. "He refused to allow it, and refused to admit that Cosmo is pornography. Sex sells and the company does not care that Cosmo gets into the hands of children. Since Frank blocked my access, I decided to bypass him and send my petition directly to each board member via Federal Express… I never received a response from the company. But I had delivered the message God wanted. I went on with life and never looked at Cosmo again."
[pullquote]
Then, in March 2012, Hearst caught wind of Weider's campaign.
"It's important to understand that we are not trying to censor Cosmopolitan magazine or stop the Hearst Corporation from printing it," she stressed. "We are simply asking Hearst to take responsibility for the magazine's pornographic content and voluntary bag it and make sure that it is sold to adults only. Right now, Hearst is refusing to do that, so Nicole and I have been speaking to legislators and others in authority to have Cosmo fall under the guidelines of states' 'Material Harmful To Minors' laws. That would make it illegal to sell the magazine to minors."
In August, the power duo met with a number of representatives in Washington D.C., and they plan to continue reaching out to political leaders on both a federal and state level, in the hopes of determining that Cosmo's content is both inappropriate and unlawful to be sold to minors.
Pick up the latest issue, with teen idol and star of ABC Family's "Pretty Little Liars" Lucy Hale on the cover, and you'll see everything from "25 Sex Moves He Secretly Wishes You'd Try" to "The Naughty Orgasm Trick Couples Love." An earlier edition, with Ashley Greene as cover girl, offers readers "52 Sex Tips" and information about what to do "when your vagina acts weird after sex."
And those are just the cover stories.
"It meets the dictionary definition of pornography and the 'Material Harmful to Minors' laws definition of pornography," Victoria Hearst said. "Nicole has received many letters from young girls who testified that they were hurt by reading Cosmo. The magazine promotes a lifestyle that can be dangerous to women's emotional and physical well being. It should never be sold to anyone under 18."
The 'Material Harmful to Minors' law is defined as "any communication, picture, image, graphic image file, article, recording, writing, or other matter of any kind that is obscene" or that the average person would consider to a pander to a prurient interest; depicts, describes, or represents, in a manner patently offensive with respect to minors, and taken as a whole, lacks serious literary, artistic, political, or scientific value for minors." The obscenity laws as they pertain to minors vary by state.
And while Cosmo is typically considered a magazine for adult women, Weider is convinced that they are subtly targeting younger and younger females.
"The most obvious example of this would be their choice of design elements and cover models. The design elements include classic strategic to appeal to young readers, such as extra large fonts and minimum words on a page, the use of over-the-top grammatical devices such as exclamation points all over the place, the use of extremely bright colors and slang which is used by young people not adults," she pointed out. "In the recent past their cover models have included underage (then 17-year-old) Dakota Fanning, Disney star Selena Gomez (who has a clothing line for teens and tweens) as well as teen-crazes Ashley Greene and Demi Lovato."
Weider says the Anti-Cosmo movement has also attracted the attention of Donald Clark, the secretary of the Federal Trade Commission (FTC).
"He has shown interest in this by writing to me directly and also requesting more information directly from the magazine," Weider continued. "But the most important thing someone can do, who shares my concern to protect young girls, is to sign the petition at Change.org because there is power in numbers and politicians only respond to large numbers of people."
The FTC was not able to comment on the issue and whether or not it is still under investigation.
Representatives for Cosmopolitan magazine and for Frank Bennack did not respond to queries regarding the evolving Anti-Cosmo Mission, and Victoria Hearst and Weider claim that the publishing empire has remained relatively silent on the campaign in the hopes it will simply go away.
Yet these ladies are determined not to stop until their task is accomplished.
"I love my family, I love Frank Bennack. I do not love what they print. I am not concerned about any potential conflict with my family or Hearst Corporation executives. I am only concerned about keeping pornography out of the hands of children," Hearst added. "I am very confident that our mission will be accomplished. How long will it take? As long as it takes. Nicole and I will not quit."