Vanity Fair takes heat for placement of African American actresses on 'Young Hollywood' cover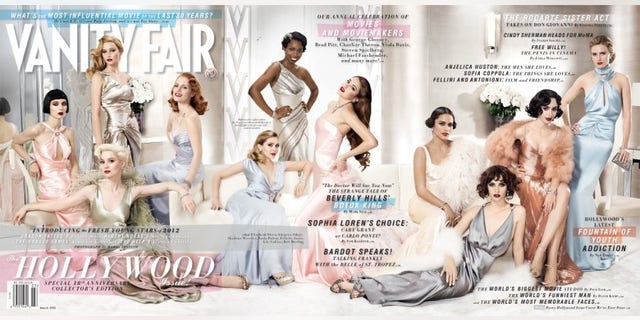 If the cover of Vanity Fair is to be believed, young Hollywood is a very white place. Yet again, the magazine has relegated black actresses to the inside fold of the cover of their "Young Hollywood" issue.
"We have the magazine producing this idea of the next generation of Hollywood that remains racially segregated and that is a problem on so many different levels," said Princeton professor of African American Studies Dr. Daphne A. Brooks. "This has become a tradition at Vanity Fair."
On the cover, "Dragon Tattoo" star Rooney Mara, "The Help" star Jessica Chastain, "Alice in Wonderland" star Mia Wasikowska and "The Hunger Games" star Jennifer Lawrence are featured in the Mario Testino art deco shot. They are all white.
Of the 11 women chosen by Vanity Fair Features editor Jane Sarkin to grace the fold-out cover, only two are women of color—"Mission Impossible" star Paula Patten and "Pariah" star Adepero Oduye. Those two women appear on fold out panels two and three.
Rounding out the spread are Elizabeth Olsen, Shailene Woodley, Brit Marling, Felicity Jones and Lily Collins.
The magazine has come under fire in the past for completely leaving women of color off the young Hollywood cover and for pushing them beyond the fold when they do include them. In last year's issue actors Anthony Mackie and Rashida Jones were pushed to the inside cover. Similarly in 2007 Zoë Saldana and America Ferrera were placed inside and in 2005 Rosario Dawson, Ziyi Zhang and Kerry Washington were hidden within the fold.
"Of course there are women they could have included this year that they didn't include," Brooks said. "We have a tradition in this country of selecting one or two people of color to be representative of an entire community. We see how certain actresses of color rise up and are selected by Vanity Fair every couple of years or so, and someone like Zoe Saldana becomes the it girl for the entire black or brown community."
When asked about placement of the African American actresses, Vanity Fair rep Beth Kseniak simply said: "We're very pleased with our cover and the talented women who adorn all three panels."
Calls to Patten and Oduye's camps were not returned. The NAACP did not respond to calls, and emails to the NAACP's Hollywood bureau also went unanswered.
Sheryl Huggins Salomon, the Managing Editor of The Root, is also concerned about the lack of diversity on the Vanity Fair cover.
"These women deserve covers just as much as white actresses," Salomon said. "I don't know what their motivation for continuing to tuck actresses of color away on the inside is. I think it may have to do with what they perceive is the profitable decision. But I would hope that publishers make brave decisions based on merit."
She said the whitewashing of magazine covers is a reality across the board in the publishing industry.
"It is received wisdom that based on newsstand sales, right or wrongly, that females do better than males and white faces do better than people of color," Salomon said. "It sends a message that when it comes to images and beauty you are invisible. Our country is becoming browner, and more and more of the audience for these magazines is going to be African American and minority women. Publishers and editors and editors should take note of that."