U2's Bono receives first George W. Bush Medal, pays tribute to late Barbara Bush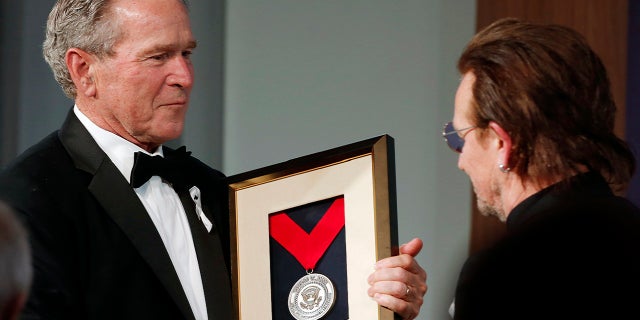 Rock star Bono, lead singer of the band U2, paid tribute to Barbara Bush on Thursday while accepting the first George W. Bush Medal for Distinguished Leadership.
The former president was on hand to present the award to the Irish musician at a gala at the George W. Bush Presidential Center outside Dallas, the Dallas Morning News reported.
The event was scheduled before Barbara Bush's death Tuesday at age 92.
The award recognizes Bono's humanitarian efforts in fighting poverty and HIV/AIDS, particularly in African countries where it has devastated the population, the newspaper reported.
Bono paid homage to the former first lady and applauded her role in helping to de-stigmatize AIDS, the report said. He said she once held a baby with HIV and embraced an adult man with AIDS.
Bono also praised the former president's Emergency Plan for AIDS Relief, or PEPFAR, which has earned bipartisan support, the Morning News reported.
"You were born of an AIDS activist, sir, and you became one," Bono told the 43rd president of the U.S.
Bono described former first lady Barbara Bush as "the mother of PEPFAR."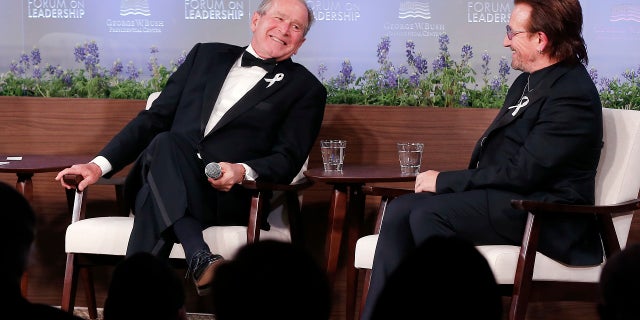 Former Secretary of State Condoleezza Rice also attended the gala and recounted how she helped introduce the two men as "the tough-talking former governor of Texas, and an Irish rocker."
"The odd couple," as Rice called them, has since developed a long-term friendship lasting more than a decade.
The presidential center intends for the award to be an annual medal for individuals who change the world in some way.
The Associated Press contributed to this report.