Trump critics become comedians for annual Thanksgiving turkey pardon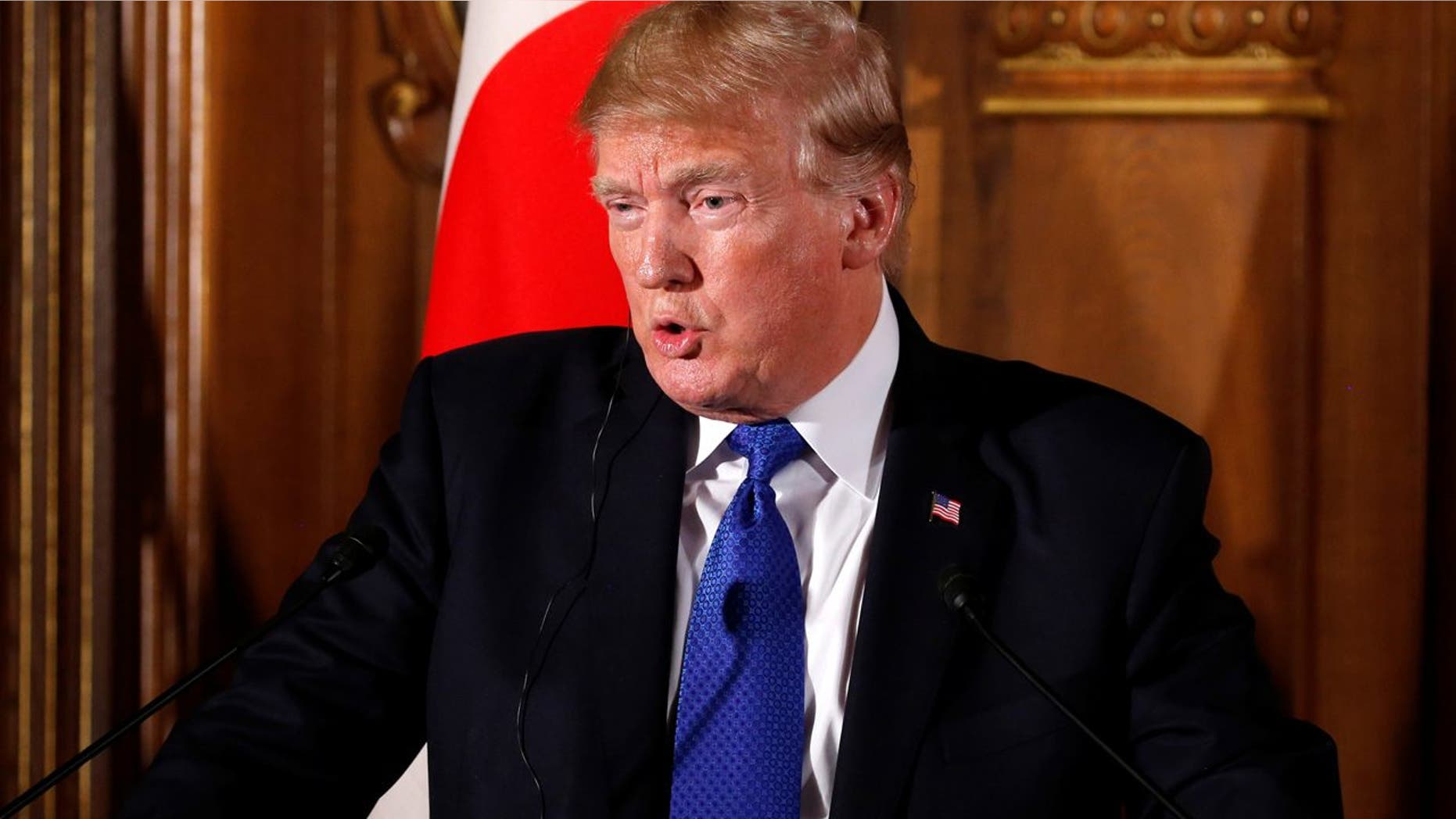 President Trump's critics both inside and outside of the media are in a lather over how the commander-in-chief will handle his next big matter of state: The annual presidential turkey pardon.
It's a time-honored Thanksgiving tradition, where a couple of lucky turkeys are spared the cruel fate of being served up with stuffing and cranberry sauce. Presidents throughout the years have dispatched their duties with a quip or two, and a great show of mercy. But suddenly, the media is worried President Trump might not be up to the task.
NPR published a story proclaiming that it should be "interesting to watch" because it's "a lighthearted event, but Trump isn't known for his public laughter," while the Boston Globe published an opinion piece imagining what is going on inside the president's head before the event that is scheduled for Tuesday afternoon in the Rose Garden.
"A lot of people think President Truman pardoned the first turkey, but he ate it, and in keeping with that great presidential tradition, and in keeping with my administration's new tradition of truly horrifying, unthinkable practices and beliefs… I've decided not to pardon the Thanksgiving turkey," the Globe's Debra Klein wrote, while attempting to channel Trump.
Anti-gun advocate Shannon Watts posted a poll on her Twitter account that asks, "Donald Trump will be the first President not to pardon the Thanksgiving turkey," with choices being "yes," "no," and "his sons will shoot it."
A quick search of social media reveals several versions of lame attempts at humor such as, "Who wants to bet that Trump won't pardon the Thanksgiving turkey this year and eats it instead?" Another user predicted that Trump will mistake turkeys for peacocks and call NBC fake news.
A Twitter user billed as the "stay at home pundit" tweeted, "It wouldn't shock me if the turkey looked at trump and said 'You know what? Just kill me.'"
Rep. Lloyd Doggett, D-Texas, even tweeted the president probably "put more thought into which turkey to pardon than how to actually lower taxes for the middle class."
CNN's "State of the Union" featured a Jake Tapper cartoon mocking the entire process and asking if some of Trump's friends will be "envious" of the pardoned birds. A stab at a straight-news story on the liberal CNN's website included the irrelevant fact that "Trump's most notorious interaction with a bird, a bald eagle used for a Time magazine photo shoot two years ago, didn't go so well," a reference to when the national bird didn't cooperate during a 2015 photo session.
Many of the jokes are related former Arizona sheriff Joe Arpaio, who Trump actually pardoned, or LaVar Ball, who the president recently called "ungrateful" after the outspoken father downplayed the White House's role in freeing his son, LiAngelo, and a pair of UCLA teammates after they were caught shoplifting in China.
A satirical website circulated an article titled, "President Trump orders the execution of five turkeys pardoned by Obama," and The New York Times recently had to inform its readers the story wasn't true. The HuffPost ran a Trump hit piece that is titled the, "Turkey Pardon Edition," despite not even mentioning the annual tradition.
NBC's "Saturday Night Live" already mocked the situation with a sketch in which Alec Baldwin's Donald Trump planned to pardon Paul Manafort by pretending that he is a turkey. Baldwin's Trump said, "There is a small chance that I'll screw that up, too, and my family will end up eating you for Thanksgiving."