'Top Gun' had a disastrous test screening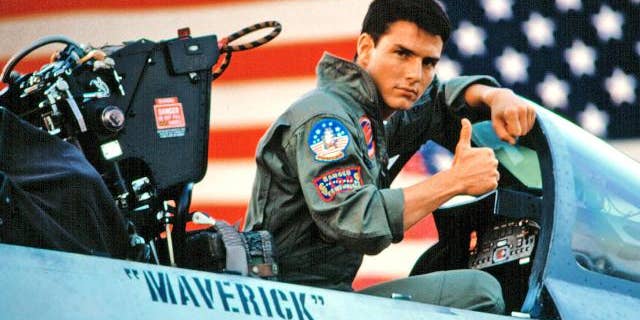 NEWYou can now listen to Fox News articles!
In the 30 years since it was released in theaters on May 16,1986, it's almost unimaginable to think "Top Gun" -- the Tony Scott-directed action film starring Tom Cruise as a hot shot fighter pilot whose cocky attitude puts him at odds with other students at the Top Gun Naval Fighter Weapons School -- wouldn't be a hit.
Despite mixed reviews -- the film has a 55 percent rating on Rotten Tomatoes -- "Top Gun" was a box-office smash, earning $177 million in the U.S. (and another $177 million internationally) during its initial theatrical release. The movie not only cemented Cruise's leading-man status, it also launched the careers of Val Kilmer, Meg Ryan and Anthony Edwards, who were all relative unknowns at the time.
"Top Gun" went on to win an Academy Award for Best Original Song for Berlin's "Take My Breath Away," spawned numerous video game adaptations, earned a place in the Library of Congress' National Film Registry, and, ahead of its 30th anniversary, reportedly started moving forward with a highly anticipated sequel, marking Cruise's return as Maverick.
"You don't make 'Top Gun' without Tom Cruise," producer Jerry Bruckheimer told ET after he shared a photo of him and the actor in New Orleans, discussing "a little Top Gun 2." But Bruckheimer, who has since launched the "Bad Boys" and "Pirates of the Caribbean" franchises, is the first to admit the cards were stacked against their ace pilot.
"You know, movies about aviation had failed over and over again," the producer says, also pointing to TV where the CBS series, "Call to Glory," failed to find an audience. "There was a TV series prior to 'Top Gun' coming out that didn't last more than a season. So, everybody was nervous that people don't want to watch airplanes or young pilots."
However, Scott pushed forward, finding ways -- from the casting of hot, young stars to filming the aerial scenes ("He gave the Navy fits with the way he wanted those pilots to fly," Bruckheimer reveals) -- to make his aviation story exciting and appealing to a mass audience.
In fact, Scott had a very specific image in mind when it came to casting his leading men. Inspired by fashion photographer Bruce Weber, the director used one of his books ("Looking Good: A Guide for Men") for visual reference. "Bruce had all these handsome, young guys and he saw the masculinity and fun in these men," Bruckheimer says. "Tony kind of cast a picture around what he saw in the book."
Of course, it would also service the film's most iconic scene: the shirtless volleyball match with Maverick and Goose (Edwards) playing against Iceman (Kilmer) and his co-pilot, Slider (Rick Rossovich). While Bruckheimer simply calls it "OK," the scene has become film iconography thanks to its homoerotic subtext. Vulture's Kyle Buchanan recently dubbed it "one of the gayest scenes ever committed to film" while TV personality Dave Holmes joked, "I am gay because of that volleyball scene in 'Top Gun'," during an episode of Funny or Die's "Gay of Thrones."
"I didn't have a vision of what I was doing other than just doing soft porn," Scott recalled in an interview featured in the film's 30th anniversary Blu-ray/DVD and Digital HD release. "I knew I had to show off all the guys, but I didn't have a point of view… so, I just shot the sh*t out of it. I got the guys to get all their gear off and their pants and sprayed them in baby oil."