'Tomb Raider' reboot actress talks replacing Angelina Jolie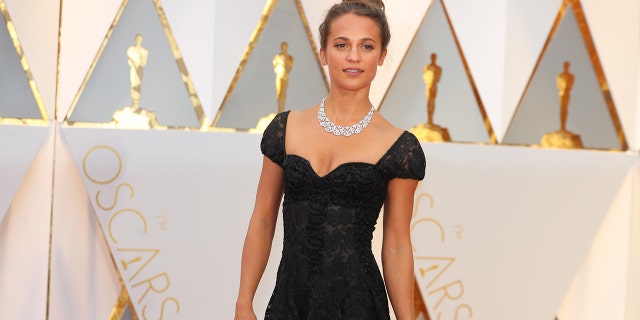 It's been almost 14 years since there was a live-action version of Lara Croft on the big screen. That will all change in 2018 when the highly anticipated "Tomb Raider" reboot hits theaters and fans can properly stack it up against the originals.
Alicia Vikander will take on the iconic character who originated in a series of video games that launched in 1996. However, non-gamers will recognize Oscar-winning actress Angelina Jolie as the last person to play Croft. Jolie starred in the 2001 "Tomb Raider" adaptation, as well as the 2003 sequel "The Cradle of Life." Despite the large gap between the original and its reboot, Vikander is the first to acknowledge that she has some big shoes to fill.
REVIEW: LARA CROFT REFRESHED IN NEW 'TOMB RAIDER'
"I was surprised that my mum knew what 'Tomb Raider' was. That's due to the fact that Angelina Jolie made Lara Croft such an icon," she told Entertainment Weekly. "But this is a beautiful way of showing a very loved character from more angles."
The 28-year-old actress went on to describe how she feels the bar for female action characters has been raised since the release of "Wonder Woman."
"If 'Wonder Woman' made such an impact, which it deserves to, then we need to use ten times as much force to make some change. Because it needs to happen."
ANGELINA JOLIE WAS DRUG-TESTED ON 'TOMB RAIDER' SET, BOOK CLAIMS
This isn't the first time that the "Tomb Raider" franchise has received a reboot. In 2013, the games started from scratch with an origin story for the character, depicting her as a young adventurer in a gritty, survival story. A sequel was released in 2015 titled "Rise of the Tomb Raider." According to the director, the film reboot has borrowed heavy inspiration from the new games.
Speaking to GQ about the differences between the films, director Roar Uthaug drew the first comparison.
"I've seen the films — they were a lot of fun and Angelina Jolie was a terrific Lara Croft. We are [making] a very different film, an origin story and I think fans will love Alicia in the role."
The new film is scheduled for a release in 2018.