Tippi Hedren recalls 'sheer panic' over teenage Melanie Griffith falling in love with older Don Johnson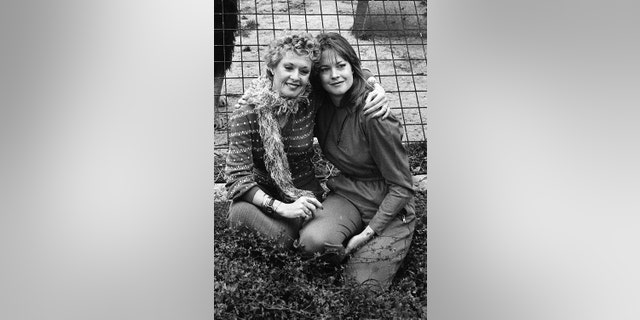 Tippi Hedren wasn't worried about birds frightening her on set. The one thing that did scare the former Alfred Hitchcock muse? The idea of her 14-year-old daughter Melanie Griffith falling head-over-heels in love with her co-star, 22-year-old Don Johnson.
The trio appeared in the 1973 film "The Harrad Experiment."
"They were two beautiful, wonderful people, and here, my daughter was showing signs that I had never seen before in her, with an older man, and there was just sheer panic," Hedren told The Hollywood Reporter Wednesday. "How do you handle that? There was a very strong attachment between the two of them."
MELANIE GRIFFITH SIZZLES IN SEXY RED DRESS ON HER 60TH BIRTHDAY
"Still is," added Johnson.
"I thought he was the most beautiful person I'd ever seen," recalled Griffith.
However, the budding romance would later prove to be more than just a teenage crush.
Johnson and Griffith married twice – first for six months in 1976, and then again from 1989 until 1996. The former couple share a daughter, 28-year-old actress Dakota Johnson of "Fifty Shades" fame.
That wasn't the only obstacle Hedren endured on set during her time as an in-demand star. Hedren described how she was reportedly sexually harassed by Hitchcock while making "The Birds" in 1963.
Griffith was aware something strange was going on.
"I wasn't allowed to go to the set," said Griffith, who was six at the time.
Hitchcock also sent Griffith a figurine of her mother – lying down in a box.
"It was a f--king coffin!" clarified Griffith.
Hedren then refused to make another film with Hitchcock, despite being locked in a seven-year contract with him. She described her horrific encounter with the master of suspense in the recently published book "Tippi: A Memoir."
"She became an example of what to never let happen in my life," said Griffith. "Hopefully, I've passed that on to Dakota – to be strong in your work and in yourself."
"I was taught self-respect and grace and strength," chimed Dakota. "Never before this moment did anyone in my family [explicitly] say, like, 'Be careful.' Sometimes, powerful men in Hollywood will try to whatever."
Hedren told Fox News earlier this year that her relationship with Hitchcock was "a sad situation."
"He and his wife Alma were my drama coaches," described the 87-year-old. "It was absolutely fabulous. And then he pulls that… that card. I wasn't a young woman who fell off the vegetable truck. I was sadden that he did this, you know, that he decided to pull that card. I said, 'I'm not interested in this. I'm not going to fall for this.'
"He kept pursuing it and then I said, 'I want to get out of the contract.' He said, 'Well, you can't. You have your daughter to take care of, your parents are getting older.' And I said, 'You know, they would not want me to be doing something I am not interested in. I want to get out of the contract.' He said, 'I'll ruin your career.' And he did. He kept me under contract and wouldn't let me work. It was just one of those Hollywood nightmares… It was just so unnecessary. That's what was so awful about this. It was just… just a sad situation. Just sad. But anyway – life goes on!"
Hitchcock died in 1980 at age 80.