The X Factor: Stacy Francis Wows; Enrique Iglesias Judges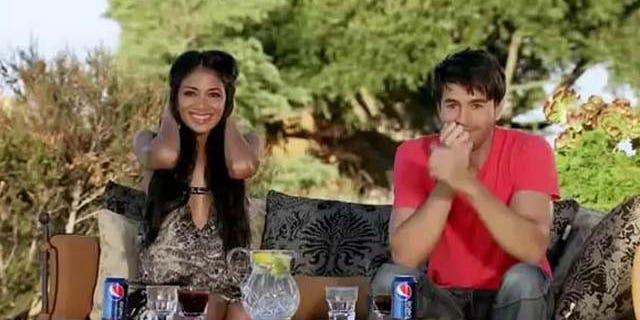 Enrique Iglesias joined Nicole Scherzinger in her Malibu home as a special guest in the "Judges Homes" auditions on The X Factor on Thursday night.
"When Nicole asked me to be her guest judge I was extremely happy," Iglesias said. "We get along, we're good friends and we've worked together in the past."
"I want to see that one person that sticks out," he added. "It's not so much all the time about vocal ability, it's about that uniqueness."
Fellow judge Paula Abdul had the 'Groups' at her home in Santa Barbara Calif., with R&B singer/producer Pharell Williams assisting. L.A. Reid and the 'Boys' were in his residence in New York City with Rihanna, and Simon Cowell flew the 'Girls' out to the South of France, where unfortunately Mariah Carey could not make it due to hurricane Irene.(That was when the segment was taped.)
Back in Malibu, Iglesias and Scherzinger were blown away with Stacy Francis as she performed an emotion filled rendition of Prince's classic 1984 ballad "Purple Rain."
"This is everything to me," Francis said as tears fell down her face. "I have it in me and it's my time."
The Spanish singer was seemed to be in shock with the strength of Francis' voice.
"I think the neighbors heard that," a smiling Iglesias told Francis.
Scherzinger, who was in tears along with Francis, questioned if Francis had enough confidence to make it in the music business.
"It's hard," said Scherzinger. "I don't understand. She has all the talent but she will only be as great as her fears and insecurities and doubts."
Iglesias wondered if Francis would be successful at selling albums.
"Is it good for today's market?" Iglesias asked Scherzinger. "Will it sell? Will a record company sign her?"
Francis thinks she certainly has the goods to go on to win The X Factor.
"I just want to be on stage," Francis reiterated. "It's all I live and breathe for."
You can reach Alexandra Gratereaux at: Alexandra.Gratereaux@foxnewslatino.com or via Twitter: @GalexLatino
Follow us on twitter.com/foxnewslatino
Like us at facebook.com/foxnewslatino