The X Factor: Rock & Roll Galore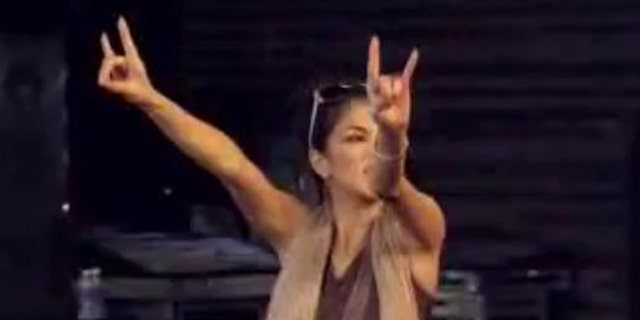 The final ten rocked out big time Wednesday night on the X Factor.
Rachel Crow or "Little Beyoncé" as Simon Cowell refers to her, got the crowd excited singing ("I Can't Get No) Satisfaction by the Rolling Stones while Chris Rene crooned to Bob Marley's "No Woman, No Cry."
From Nicole Scherzinger's "Over 30's" Group Stacy Francis and Leroy Bell fell a bit short.
Francis performed Meatloaf's "It's All Coming Back to Me Now," and left the classic song on life support.
X Factor judge Paula Abdul told Francis that this performance was her least favorite, but Scherzinger disagreed telling Francis she put on a "Glam rock" show.
Seattle native Leroy Bell took on Bob Seger's "We've Got Tonight," but failed to impress music executive extraordinaire L.A. Reid who said Bell was not "working it like a rock star."
On the other hand, Burrito maker, singing sensation Josh Krajcik, put on a rendition of the Foo Fighters "The Pretender," and showed the judges his rock chops. All four judges gave him a standing ovation and Cowell called the show "bloody fantastic."
"Josh is super cool," Scherzinger said. "He feels like one of the bros."
Krajcik in response applauded Scherzinger calling her a "great mentor" and said "she really gets me."
"The dream of being a rock star probably started when I was 12," Krajcik said. "I dreamed of it every night."
Sadly, Melanie Amaro and Drew Ryniewicz's performances did not pan out like Krajcik's.
Amaro, 19, delivered a solid performance when singing "Everybody Hurts" by R.E.M., but like in prior weeks, there was no different.
Ryniewicz also nailed the vocals to U2's "With or Without You," but like Amaro did not rock out enough to this week's theme.
Abdul's group Lakoda Rayne performed "Use Your Love/Go Your Own Way" by The Outfield and Fleetwood Mac.
The all girl band was pleasant and cute, but need to strengthen their vocals and the overall blending of their voices.
Brooklyn born Astro gave the crowd a spin to Diddy's (Puff Daddy at the time) "I'll be Missing You" featuring Faith Evans, 112 and Sting by adding his own lyrics, leaving the crowd in awe as he honored some of hip hop's greatest Heavy D and Tupac Shakur.
Singing "Piece of My Heart" by rock and roll royalty Janis Joplin, Marcus Canty sizzled on stage, getting down and dirty with the female dancers.
"You rocked," Reid said.
Cowell told Canty he definitely showed a naughtier side of himself.
"You say you were going to be a good boy," Cowell said. "You looked up the skirts of 10 girls. Too much temptation."
You can reach Alexandra Gratereaux at: Alexandra.Gratereauz@foxnewslatino.com or via Twitter: @GalexLatino