The X- Factor: Paula Abdul's Stereo Hoggz Set the Bar High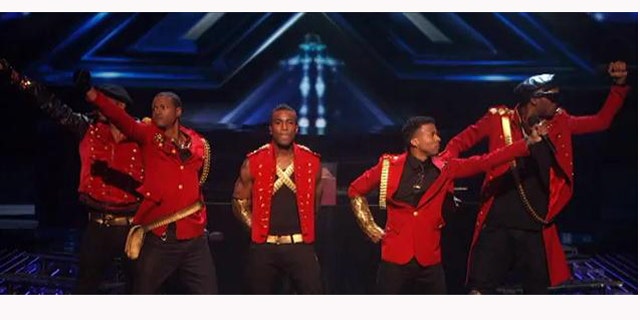 It was a thrilling and energetic live performance show Wednesday night on The X- Factor, as Paula Abdul's Stereo Hogzz took over with their extravagant production of Janet Jackson's classic song 1989 "Rhythm Nation."
The evening was set for the final 12 acts to win over America's votes in the hopes of moving on to the next round.
Reminiscing Jackson's iconic music video of Rhythm Nation, the Stereo Hogzz drove the crowd wild. The production included an over the top choreography set backed up with singing
You're fantastic students. As a fan…I'm crazy for you.
Like Jackson does in the clip, the boys sing about social injustice and sport similar military gear. Futuristic dancers then joined the band and in perfect harmony performed the rehearsed steps.
The all boy band looked like they had been doing the performance for years.
"That was great!" said music executive L.A. Reid. "You absolutely have what it takes to be on stage."
Reid, who has been responsible for making the careers of music moguls such as Usher, Justin Bieber and Rihanna reminded the boys that unfortunately the decision was in the hands of the nation.
"The bad news is that it's not up to me," Reid said. "It's up to the public."
Former Pussycat Dolls lead singer Nicole Schirzinger gave the band props for their performance.
"I come from a singing and dancing group and I know how hard it is to do both and make it look easy," Schirzinger said. "Much respect to you."
Simon Cowell was impressed and said he wished he was coaching them instead of his frenemy Abdul, who beamed in delight next to him.
"I was in such a good mood until because miss smug on my right is so happy," Cowell joked. "I think you are one of the best groups in one of these competitions."
"I work for a record label and I don't think there is a band in the world now as good as you," he added. "That was a master class of choreography, being slick, vocals and charisma."
Abdul, who ironically helped Jackson choreograph "Rhythm Nation" among many other of her music videos and tours, thanked the Stereo Hoggz for their hard work.
"As a choreographer, you make my life so interesting," Abdul said. "I go to bed thinking of concepts for you."
She also pointed out their ability to learn quickly.
"You're fantastic students," said Abdul. "As a fan…I'm crazy for you."
Fans around the globe chipped in their thoughts minute by minute via twitter. They can also cast their favorite by calling and texting. Voting will close Thursday evening and one contestant and/or group will be sent home.
You can reach Alexandra Gratereaux at Alexandra.Gratereaux@foxnewslatino.com or via Twitter: @GalexLatino
Follow us on twitter.com/foxnewslatino
Like us at facebook.com/foxnewslatino