The X Factor: Enrique Iglesias Digs Josh Krajcik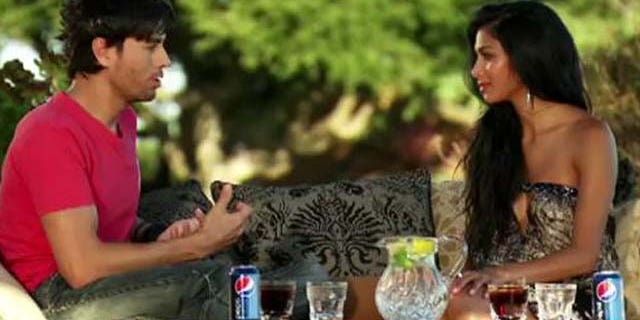 Burrito maker Josh Krajcik took Enrique Iglesias and Nicole Scherzinger by surprise when he sang 'The First Time I Saw Your Face,' made famous by Roberta Flack, Sunday evening on the "The X Factor."
Part 2 of the "Judges Homes" auditions carried on as judges and their celebrity friends evaluated the remaining 32 contestants in the hopes of narrowing the field down to 16.
Paula Abdul and R& B singer Pharell had the 'Groups' at Abdul's Santa Barbara home in Calif., L.A. Reid, Rihanna and the 'Boys' were in his Hamptons mansion in New York, while Simon Cowell and the 'Girls' were getting down to business in the South of France.
Enrique Iglesias is once again helping his buddy Nicole Scherzinger judge the 'Over 30's' group. Last week he was impressed with Stacy Francis, who sang Prince's "Purple Rain."
The Spanish sweetheart was blown away, yet again, this time with Josh Krajcik. Iglesias argued that, despite Krajcik not looking the pop star part,he has something special that is worth fine-tuning.
"He's not your typical star," Iglesias told Scherzinger. "[He's] not all the glitz and glamour."
"He's notable, he's personable," said Scherzinger. She still noted how the Ohio native is "rough around the edges."
It was this same contrast between his unassuming appearance and his imposing voice that blindsided all four judges during his first audition, and led each of them to give him a 'yes' to the next round.
Back then Krajcik told the judges that he worked in a restaurant, "You need to give the slinging Burrito job to somebody else," Reid told Krajcik.
This time, Krajcik, 30, revealed he has a 13-year-old daughter who "is amazing and so beautiful," and wants "her to have all the opportunities in life."
"I want to show her that dreams can come true with hard work and a little luck and some talent," Krajcik said. "Me winning this competition, which I plan on doing, will allow that to happen."
Scherzinger closed her eyes and seemed to get lost in the song while Krajcik performed. Iglesias was all smiles.
"I've always loved performing," Krajcik told the judges upon finishing the song. "I've always had the confidence that I could be something big in this world."
"Music has always been one of the most important things in my life," he added. "At least I could show what I'm capable of."
You can reach Alexandra Gratereaux at: Alexandra.Gratereaux@foxnewslatino.com or via Twitter: @GalexLatino
Follow us on twitter.com/foxnewslatino
Like us at facebook.com/foxnewslatino