'The Wolverine' claws way to top of box office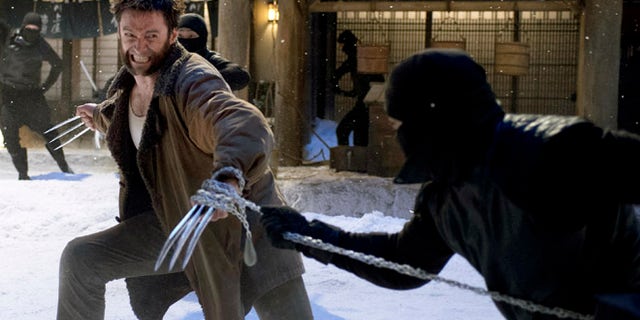 LOS ANGELES – "The Wolverine" slashed monsters and minions to debut atop the weekend box office.
The Fox film featuring Hugh Jackman's sixth turn as the claw-wielding superhero opened with $55 million in North America, according to studio estimates Sunday.
Last weekend's top movie, Warner Bros.' low-budget horror "The Conjuring," slipped to second place, adding another $22.1 million to its take, while "Despicable Me 2" was in third with $16 million. The Universal animated sequel, with its cast of cute, yellow minions, has made more than $600 million worldwide since it came out four weeks ago.
"The Wolverine," which is set in Japan and features an international cast, earned another $86.1 million overseas. The film's opening-week take surpassed the $120 million it cost to make, said Chris Aronson, Fox's head of domestic distribution.
"It's a huge opening for the clawed one," he said. "It played equally well from Maine to Maui."
Another Fox film, the animated snail-racing tale "Turbo," was in fourth place with $13.3 million. Adam Sandler's "Grown Ups 2" followed with $11.5 million.
Woody Allen's latest, "Blue Jasmine," enjoyed a stellar opening of its own, though on a much smaller scale. Starring Cate Blanchett, the film opened in just six theaters but still collected $612,767.
"It's one of the biggest opening per-theater averages ever for a non-animated film," said Paul Dergarabedian of box-office tracker Hollywood.com.
Ticket sales this weekend were up almost 30 percent over the same weekend last summer, he said.
"It was a good weekend to be a moviegoer because the choices just got a lot more interesting," Dergarabedian said, noting a mix that includes animated, independent and big-budget action offerings.
"Fruitvale Station," the Sundance winner already generating Oscar buzz, opened across the country and edged its way into the top 10, contributing to a summer box office that's up more than 10 percent over last year.
___
Estimated ticket sales for Friday through Sunday at U.S. and Canadian theaters, according to Hollywood.com. Where available, latest international numbers are also included. Final domestic figures will be released on Monday.
1. "The Wolverine," $55 million ($86.1 international).
2. "The Conjuring," $22.1 million.
3. "Despicable Me 2," $16 million.
4. "Turbo," $13.3 million.
5. "Grown Ups 2," $11.5 million.
6. "Red 2," $9.4 million.
7. "Pacific Rim," $7.5 million.
8. "The Heat," $6.85 million.
9. "R.I.P.D.," $5.85 million.
10. "Fruitvale Station," $4.65 million.