'The Real Housewives of Orange County' Vicki Gunvalson opens up about show secrets, season 8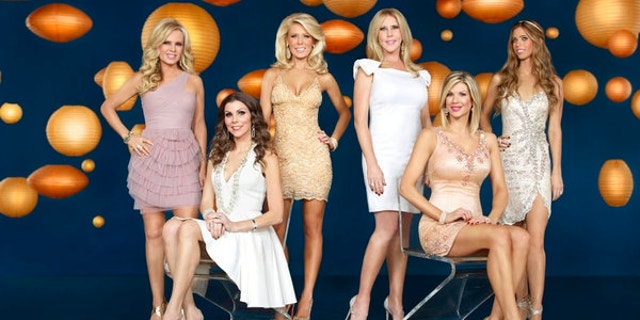 FOUNTAIN VALLEY, Calif. – Vicki Gunvalson is making it look easy.
On an unusually dreary day in Orange County earlier this month, inside a soundstage situated between a furniture outlet and a mattress store, the excitable insurance agent is perched on a chair in front of a green screen spilling her guts out to a camera — well, a producer sitting beside a camera.
Nothing is off limits: her divorce, finances, fights with her children, her relationship with God, you name it.
Of course, opening herself up for the world to see — and judge — has become second nature to the reigning queen of Bravo's "The Real Housewives of Orange County," which begins its eighth season Monday. Most of Gunvalson's life has been proudly captured by reality TV cameras since 2006, back when Anna Nicole Smith was still alive and tweeting was still for the birds.
It's Gunvalson's new reality. Over the past eight years, she's remained the one constant in "The Real Housewives" universe, which now includes editions in New York, Atlanta, New Jersey, Miami and Beverly Hills, as well as international versions in places like Canada, Ireland and Australia.
While the rest of the inaugural "Orange County" ensemble moved on or wasn't asked back or whatever, and others have come and gone, Gunvalson stuck with the show, and the show stuck with Gunvalson. Why has she continued to allow reality TV cameras to document so much of her personal life?
"I have a sense of responsibility," she says following her on-camera therapy session. "I would've been (expletive) at myself if I backed out of season five or six and saw the success of the franchise keep going, and I elected to pull back because I couldn't handle it anymore. There's nothing I can't handle. I just have to figure out a way not to crumble when times get tough when I'm doing this."
When she debuted on the first season of "The Real Housewives," the 42-year-old Gunvalson was married with two teenagers and sold insurance from home. She's now a 51-year-old first-time grandmother with her own insurance company and 12 employees. She's also still trudging through a drawn-out divorce.
Sure, Gunvalson wishes she would have said and done some things differently over the years, but she has no regrets. In the same breath, she can blame the experience for the collapse of her marriage but praise it for giving her more confidence across all aspects of her life.
"The Real Housewives of Orange County" creator Scott Donlop, who cast Gunvalson for the series, remembers her apprehension about joining the show like it was yesterday. At that point, nobody had any inkling "The Real Housewives" would last for eight seasons, let alone ignite a cultural phenomenon.
"I remember sitting in Vicki's dining room with her then-husband Donn and her asking me, 'Why would you put me on a television show? I don't know anything about television,'" says Donlop. "She kept asking me, 'What are we going to do!?'"
"The Real Housewives of Orange County" was originally marketed as a reality TV take on "Desperate Housewives" set behind the gates of Coto de Caza, a ritzy private gated community in Orange County, Calif. The show began as more of an aspirational suburban anthropological experiment than the secret-spilling, cheek-kissing, wine-tossing, trip-taking, Bunco-playing soap opera that it's known as today.
The behind-the-gates conceit was mostly abandoned by the third season with the addition of outspoken real estate agent Tamra Barney, who lived outside Coto. Over the course of filming the show, Barney and Gunvalson became besties — on and off camera — but their degrading friendship was a pivotal plot point during the seventh season, an experience that reshaped how Gunvalson approached filming the eighth season.
"The reality is when we're not filming, we're not hanging out together," says Gunvalson. "We're not going on vacations together. I really had to separate my on-camera friends from my off-camera friends. That's helped me get through the uncomfortable times."
Later this year, "The Real Housewives of Orange County" will reach a TV milestone: its 100th episode. Gunvalson has been there for all of 'em. To mark the occasion, Bravo is planning a standalone two-hour special that will pull back the curtain on the series and revisit past cast members.
"There's a lot of people who have been on the show," said Shari Levine, Bravo's senior vice president of original programming. "The cast has changed over the years. People's lives have changed. It's interesting to be reflective. We're not usually reflective. It's an opportunity to do that."
While much of the show's veneer has been wiped away in recent years by tabloids, social media, talk shows and a savvy viewing public, that hasn't deterred viewership. The seventh seven, which added eye-rolling actress and plastic surgeon's wife Heather Dubrow to the mix, averaged 2.8 million viewers and was the highest rated season among younger audiences.
"The show is like a Venn diagram," says Dubrow. "You have the show, reality and the show's reality intersecting. It really does exist on three different planes, so to be doing an interview breaking down the fourth wall (for the 100th episode) was a little surreal."
Before the special airs on Bravo later this season, the eighth installment of "The Real Housewives of Orange County" fires up Monday with Dubrow preparing to host a clam bake, Barney adjusting to life with her finance and Gunvalson becoming a grandmother.
Gunvalson isn't sure if the network will invite her back to yelp her signature "WOO HOO!" for a ninth season. She's game, but she's at peace knowing the cameras will eventually go away.
"There will be a day when the curtains close or Bravo tells me they're going with a younger crowd or that I don't have a story anymore," she says. "I don't believe I'll never not have a story. I'm Vicki Gunvalson. I'm not boring. I'm always juggling 900 things at once. There's going to be a story. The question is does Bravo want it? That's their choice."