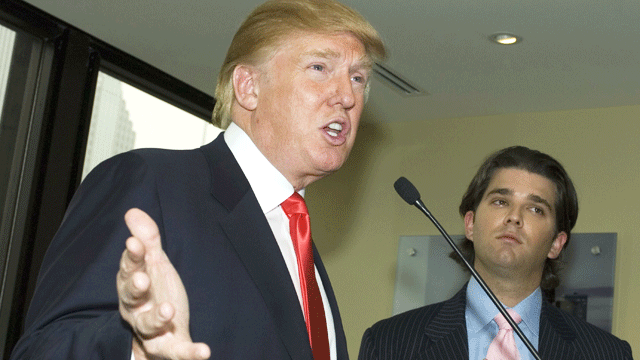 Donald Trump is famous for saying "You're fired!" on "Celebrity Apprentice," but this time it is a sponsor that has fired him.
Marcus Lemonis, CEO of Camping World, denounced Donald Trump Jr., who serves as a judge on the current season, for posing for photos with an array of dead animals he killed on a big game safari hunt in Zimbabwe.
In one, he holds up a severed elephant tail, while holding a knife in his other hand.
Even though Donald the Elder was quick to distance himself from the controversy when photos first surfaced – stating plainly that he does not believe in the sport – Lemonis pulled his company's ads from the popular NBC reality show.
"I am totally disgusted by the [hunting] pics I have seen and was surprised to see them," Lemonis told TMZ.
But not everybody is outraged. Trump Jr. is getting plenty of support for his involvement with the Hunting Legends safari, which claims it is an "ethical" organization consisting of "professional hunters, and not opportunist killers."
"Anybody with a shred of honesty supports the Trumps, and all hunters, as the best damn hands-on value conservationists on earth," devoted hunter and musician Ted Nugent told Fox411.com's Pop Tarts column. "The Trumps are welcome at the Nugent family sacred hunting grounds anytime."
Despite of the backlash, Trump Jr. has made no apology for his actions, and responded to angry tweets from animal lovers and activists with some of his own.
"You think we wasted the meat? It fed a village for a month… I'm a hunter, I won't cower from that because of some losers," he said via Twitter. "Actually the money from hunting fees preserves animals and habitat. Complaining does nothing. Bottom line is without hunters $ there wouldn't be much left of Africa. Nothing we hunt is endangered, that's just how it's spun by anti-hunters."
Others tweeted support and admiration to Trump Jr. for not surrendering his beliefs for PR purposes.
"Thank you for supporting the people of Zimbabwe by ethically and legally hunting there. I'm sure many people were thankful," tweeted one fan, while another wrote: "I like that you stand up for yourself, unlike other celebrities. You're a man and you're supposed to be at the top."
As you might imagine, People for the Ethical Treatment of Animals (PETA) is not pleased.
"Left alone, animal populations regulate their own numbers based upon the availability of food and secure habitat," a PETA rep told us. "The money spent on hunting fees in this case could have gone toward the building of a school or hospital or planting an orchard, any of which would have had a lasting positive effect on the villagers, rather than patronizing them and reducing them to hunting guides for spoiled, bored, visiting American millionaires."
And even though Camping World is out, TV types are not anticipating the hoopla to negatively impact the "Apprentice" franchise.
"Some companies pull ads at the first sign of controversy for fear of boycotts. Considering that Donald Trump Jr. is simply a part of an ensemble cast and the controversial hunting trip had nothing to do with the show, I think it was unnecessary for the advertisers to pull ads because the show would likely never have been targeted," added Glenn Selig, founder of The Publicity Agency. "As for the Trump brand, I don't believe there's anything to worry about. The Trump brothers were engaged in an activity that is legal and enjoyed by the wealth,y and their brand caters to those who are affluent."
The Trumps, Camping World and several other "Apprentice" advertisers did not respond to our requests for comment.