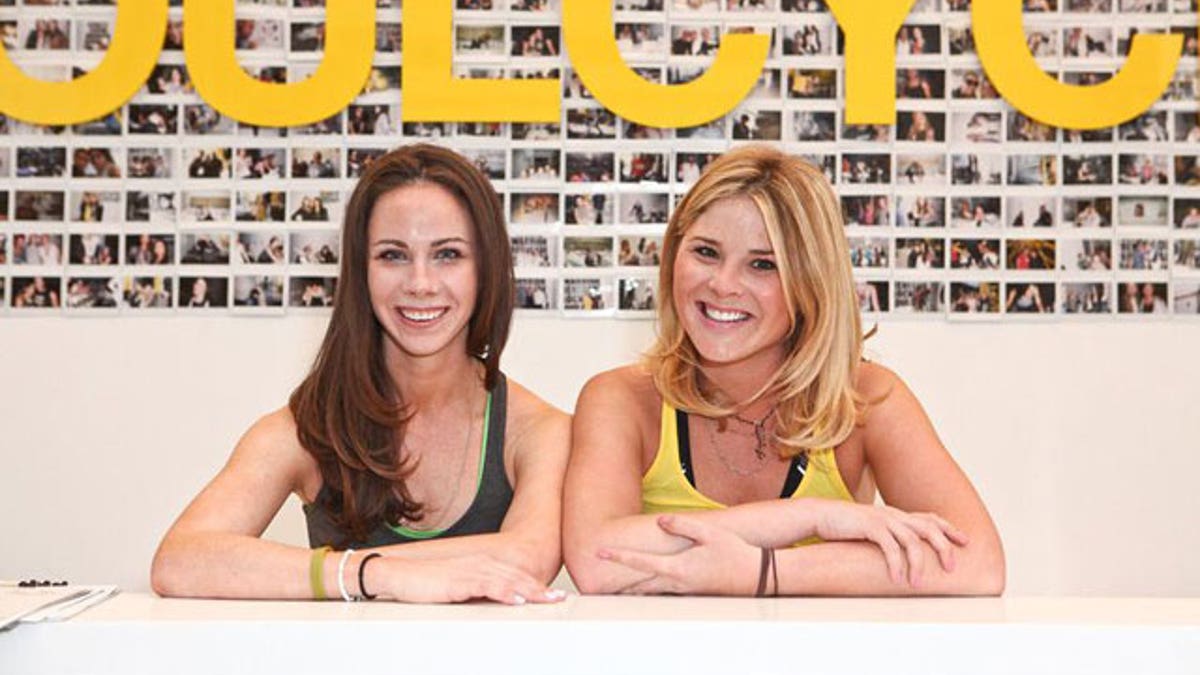 Helping those less fortunate has always been a strong passion for Jenna and Barbara Bush, 30, the twin daughters of former President George W. Bush and first lady Laura Bush tell Fox411's Pop Tarts in a unique interview ahead of a workout for charity.
"We grew up with giving back being a priority. We were both able to go to Africa several times with my parents when they were in the White House, and we witnessed projects that were able to save lives and change countries and communities," Jenna told FOX411's Pop Tarts column last week, ahead of an indoor cycle class at SoulCycle in West Hollywood to raise funds for the twins' charity Global Health Corps.
"Those trips were really important because we realized the impact that good health can have on communities, and the importance of teachers. I also work in education, and I know that education and health saves lives. That's really what impacted us, that there is a way to solve these problems."
Three years ago, the Bush girls joined forces with four others to found Global Health Corps. The initiative places outstanding college graduates in health in non-profits and government offices in either East Africa or the United States for a year of service.
Last week's intense, 45-minute sweat-fueled ride raised enough money to fund one fellow for a year.
"As an organization, we mobilize graduates to serve with the idea that the fellows will not only make an impact in that area, but that they'll continue to work on those issues throughout their lives and make further changes in public health," Barbara continued. "We started this really to engage people of our generation to work in the field of global health and bring new solutions to it."
As a philanthropist and CEO of the organization, Barbara also stressed that the government alone should not be held responsible for our nation's health care.
"Health is a tricky thing to work on from a government perspective, and there has certainly been a big debate around health care here in the U.S. I obviously work in a non-profit so I think it needs to be non-profits and government and everyone working on the issues," she said. "Health is so fundamental to everything else in terms of education and in terms of our economic future. If you don't have health, it is hard to have anything else."
Ailments that the girls would like to see addressed more fervently in this country include chronic illnesses, diabetes and HIV, with a focus on preventive health measures.
"The main thing is that these things are often preventable and treatable," Barbara added. "We know how to deal with them, so we really have to get in there and do it."
On another note, the girls said life for them now that their parents are out of the White House hasn't made it easier to go about things more anonymously. And if you think it's not every day that one gets to sweat it out in an indoor cycle room with the daughters of former Presidents, think again. The Bush twins are regulars at SoulCycle in New York and credit the intense, full-body cycle workouts to their trim figures.
But they're yet to get their famous parents, who are enjoying life back in their home state of Texas, into the high-tech sports studio.
"Our dad is really into mountain biking now and he would be a huge fan of SoulCycle; he would love it. It's so much fun," Jenna enthused. "And they turn the lights off, so it's really not competitive."