'Solo: A Star Wars Story' debuts new trailer featuring surprising Chewbacca reveal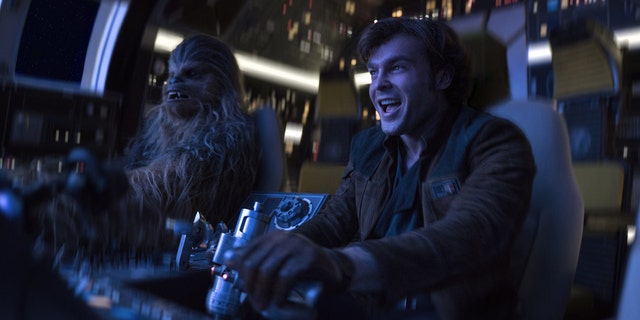 NEWYou can now listen to Fox News articles!
After a much maligned and talked-about production, Lucasfilm and Disney dropped the newest trailer for "Solo: A Star Wars Story" and it gives fans some pretty exciting information, including Chewbacca's age.
The second trailer for the upcoming film gives us another brief glimpse a the young versions of characters we've grown to love such as Solo, Lando Calrissian and Chewbacca. However, "young" may be a bit of a misnomer when it comes to everyone's favorite Wookiee given that he reveals in the trailer that he was 190 years old when he first met his longtime friend and co-pilot.
"You look great," a young Solo, played by Alden Ehrenreich says in the trailer below.
In addition, fans are introduced to a handful of new characters they may not recognize from previous filmed played by stars such as Emilia Clarke, Thandie Newton, Phoebe Waller-Bridge and Woody Harrelson. Previously, fans were given a brief look at the upcoming movie by way of a TV spot that aired during the Super Bowl.
"Solo: A Star Wars Story" follows the release of "Star Wars: The Last Jedi," but acts as a prequel to the events of the first movie "Star Wars: A New Hope," which came out in 1977. It follows "Rogue One: A Star Wars Story" in a projected three-film anthology series to accompany Episodes VII, VIII and IX.
You can check out the moment Solo steps onto the famed Millenium Falcon, his first encounter with Lando, his decision to become a professional criminal and the makings of a pretty cool train robbery in the trailer below.