Siegfried and Roy Say Good-Bye to Showbiz With a Network Special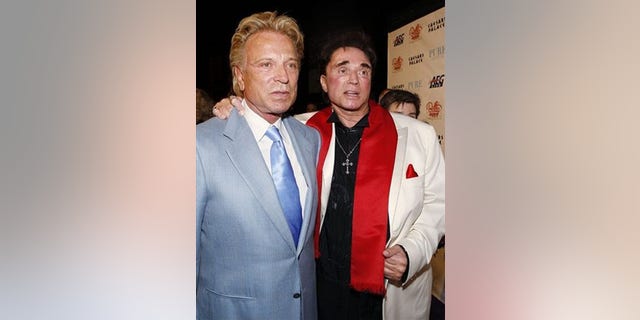 NEW YORK – It was no illusion.
Legendary illusionists Siegfried and Roy appeared in public last weekend for the first time in more than five years, sharing the stage with the Bengal tiger that had ended their careers, for what they said was one last performance.
"They really wanted a final chance to get on the stage and say good night, goodbye, and thank you to all the fans who have supported them so devotedly," says ABC News' Elizabeth Vargas. "And they wanted to take this risk."
On a special edition of the "20/20" newsmagazine, Vargas reports on their remarkable performance at Las Vegas' Bellagio Hotel and Casino, where for more than 13 years they thrilled thousands.
In the hour-long program, Vargas also visits with Roy Horn and Siegfried Fischbacher at home, and hears about the grueling five years endured by both of them since Montecore, a massive white tiger, brutally mauled Horn during a 2003 performance.
"Siegfried & Roy: The Magic Returns" airs Friday night in the U.S. on the network ABC.
"Up to now, the focus, understandably, has been on Roy and the catastrophic injuries he suffered," says Vargas. Even after cheating death, "he was told by doctors he would never walk or talk again, and he's doing both."
"But an unreported part of the story was what Siegfried went through. He suffered from something we know as 'caregivers' syndrome' — when people who take care of others forget to take care of themselves."
"Roy, for all his improvements, is still terribly, terribly injured. But Siegfried has had struggles of his own. He really lived for the stage, and then it was taken away in one moment."
"He's honest in talking about how, after that, he suffered from severe depression."
A year ago, the pair surprised their public by announcing a one-time-only comeback: a brief charity show to benefit the Cleveland Clinic Lou Ruvo Center for Brain Health, which will treat brain disorders like those Horn suffers from and is set to open in Las Vegas later this year in a building designed by famed architect Frank Gehry.
The performance began with a signature trick by these veteran performers, it began with Fischbacher dressed in white robes and a mask standing inside a cage that was then draped. As Horn removed the cloak seconds later, Fischbacher appeared across stage, a hulking tiger having taken his place.
"I asked them both, 'Why do this?"' marvels Vargas. But after spending time with them, she says, the answer may be found in "the power of their friendship and partnership."