'Sex and the City' star Kristin Davis posts cast throwback photo, leaves out Kim Cattrall amid feud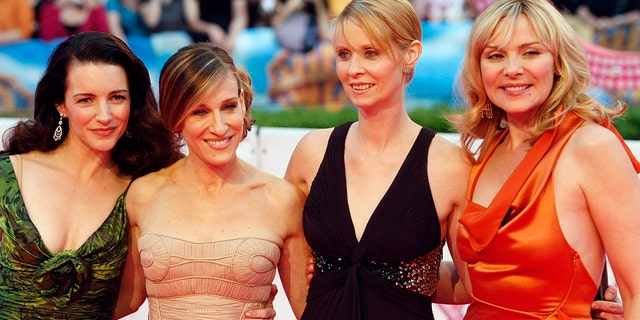 To commemorate the 70th Annual Primetime Emmy Awards, actress Kristin Davis posted a throwback photo of herself with her "Sex and the City" co-stars, minus one conspicuous exception.
The star chose a photo of herself, Sarah Jessica Parker and Cynthia Nixon at the 2004 ceremony. Noticeably absent from the photo is Kim Cattrall, who played Samantha on the show for 10 seasons and in two movies. While the actress was definitely not cut out of the image, she was definitely present at the 2004 awards. The omission has led many to believe it has something to do with Cattrall's long-reported feud with the rest of the cast.
As Entertainment Tonight notes, all four of the leading ladies from "Sex and the City" were nominated for an award that night for the show's 10th and final season. However, only Nixon and Parker took home a trophy.
"Emmy flashback - super happy memories and wishing joy to everyone tonight," Davis captioned the image on her Instagram. "We are all so incredibly lucky to get to do what we do!"
In February, the war of words became a bit more public when Cattrall announced the untimely death of her brother on social media. Parker was the first "Sex and the City" actress to comment on the post, sharing a brief note of condolence with Cattrall.
"Dearest Kim, my love and condolences to you and yours and Godspeed to your beloved brother," she wrote.
Soon after, Cattrall, who had previously noted that she was not friends with the three other co-stars and merely put up with them professionally, posted a response to Parker's condolence message.
"I don't need your love or support at this tragic time @sarahjessicaparker," she wrote in a text image.
The caption continued: "My mom asked me today 'When will that Sarah Jessica Parker, that hypocrite, leave you alone?' Your continuous reaching out is a painful reminder of how cruel you really were then and now. Let me make this VERY clear. (If I haven't already). You are not my family. You are not my friend. So I'm writing to tell you one last time to stop exploiting our tragedy in order to restore your 'nice girl' persona."
Parker responded in an interview to Vulture that she hasn't said anything unkind to Cattrall.
"I'd just like to remind everybody that there is no catfight," she said. "I have never uttered an unkind, unsupportive, unfriendly word, so I would love to redefine it... I've always held Kim's work in high regard and always appreciative of her contributions."