Selena Gomez gets Twitter backlash for remaining quiet on 'Black Lives Matter' push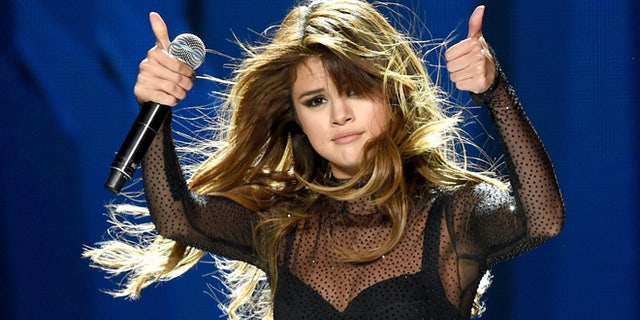 NEWYou can now listen to Fox News articles!
Selena Gomez tried to support BFF Taylor Swift during her ongoing feud with Kim Kardashian and Kanye West, but learned that sometimes Twitter will give a harsh dose of reality about thinking before tweeting.
The singer took to social media to defend her "Bad Blood" pal earlier this week, writing: "There are more important things to talk about … Why can't people use their voice for something that f***ing matters?"
However, her good intentions received almost immediate backlash from fans that slammed her for not publically speaking on social issues affecting the country, most notably the Black Lives Matter movement.
"Good question! Why haven't you or Taylor not said a thing about #BlackLivesMatter or police brutality?" one fan wrote to her.
Gomez responded – and then deleted – with: "Oh lol so that means if I hashtag something I save lives? No, I could give two f---s about 'sides.' You don't know what I do."
Another person wrote: "Kim Kardashian even spoke about #BlackLivesMatter. Selena Gomez haven't mentioned about the Latino lives that have been murdered by Police."
One even mentioned Gomez's late friend, Christina Grimmie, who was shot and killed by a deranged in June.
"As a Texas native and a friend of Christina Grimmie, why haven't you expressed concerns about GUN CONTROL?" the person wrote, while another one said, "You literally have no room to talk when you have a huge platform and all you do is post pictures and take fake sips of Coke @selenagomez."
This was in reference to Gomez's ad for Coca-Cola, which is the most-liked photo on Instagram.
The recent feud between Swift and Kardashian started when the reality TV star shared a series of Snapchat videos that showed husband Kanye West on the phone with Swift about six months ago. They were talking about West's now infamous single "Famous" – which according to West has a Swift-approved line: "To all my southside n** that I know best/ I feel like me and Taylor might still have sex/ Why? I made that b** famous."
Swift said, according to published reports, that the name-dropping in the single was "like a compliment, kind of."
The singer then took to Instagram to defend herself, claiming in her note that she wasn't informed she's be referred to as "that b**" in the song. She captioned her post: "That moment when Kanye West secretly records your phone call, then Kim posts it on the internet."
"Being falsely painted as a liar when I was never given the full story or played any part of the song is character assassination," she wrote. "I would very much like to be excluded from this narrative, one that I was never asked to be a part of, since 2009."