Sarah Silverman's Plunging Gown, Kim Kardashian's Birthday Surprise, and Much, Much More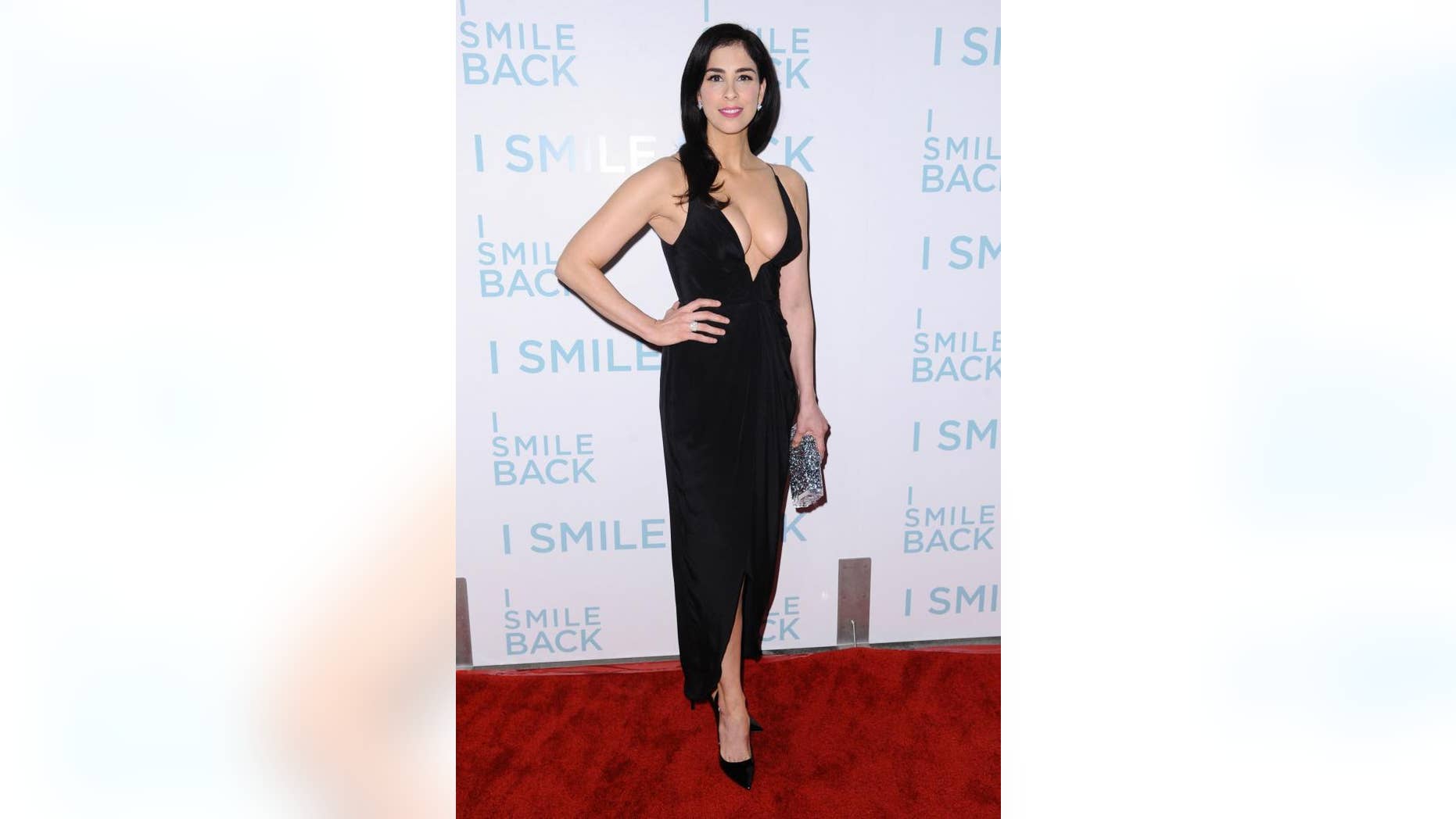 Here's what's happening out there:
• Actress and comedian Silverman Silverman wore a plunging black dress (above) to the Hollywood premiere of her new film "I Smile Back," which is about a woman experiencing a devastating personal crisis. That crisis? We're not sure exactly, but we're guessing she was able to fix it with lots and lots of double-sided tape.
• In honor of National Pizza Month (yes, it's National Pizza Month), we thought we'd share a pizza-like pasta recipe from cookbook author Danielle Walker. Watch the video below to see how it's made, but please note how we described this dish as "pizza-like," meaning that it's not pizza, but you will like it. ( for the full recipe.)
• Forbes has determined Jerry Seinfeld to be 2015's highest-paid comedian. According to their estimates, he's earned approximately $36 million between June 2014 and June 2015, which effectively means he's earned a whole million dollars for every time you've seen a rerun of the "Soup Nazi" episode.
• Kanye West reportedly threw a 35th birthday party for wife Kim Kardashian on Wednesday, where he arranged for her family and friends to show up wearing fake baby-bumps to mimic Kim's current state (below). Incidentally, this is also how you throw a birthday party for someone you hate.
• The Discovery Channel has announced that its long-running series "MythBusters" will be coming to an end after next year's 14th season. After that, fans of the show will just have to conduct their own highly dangerous and (often) explosive experiments in their respective backyards. (Or just watch the reruns on Discovery.)
• Former "Price is Right" host Bob Barker was reportedly taken to the hospital after suffering a fall outside his Hollywood Hills home, but thankfully, he sustained only minor head injuries. We're guessing Barker is also thankful he suffered those injuries in private, rather than on national TV like that like that "Price is Right" announcer who fell on his butt a few years back:
• TMZ is reporting that Khloe Kardashian and Lamar Odom are calling off their divorce following his recent hospitalization. If it's true, we wish them lots of luck. We only hope this news doesn't inspire copycat attempts at reconciliation, whereby estranged husbands everywhere flock to Nevada brothels in last-ditch efforts to win back their wives.
• "Man of Steel" actor Henry Cavill joined Instagram on Wednesday to share a photo of Total Film magazine's "Superman v. Batman" cover story (below), which can mean one of only two things: either he was contractually obligated to start promoting his movie, or he's just really excited for "Victor Frankenstein" starring Daniel Radcliffe:
• And finally, NBC is said to be developing a new TV series based on the 1999 film "Cruel Intentions," which was about a bunch of teenagers trying to seduce each other. This new series, however, will instead focus on the original characters' children … which, by our math, means NBC is going to try to get us to watch a series about 14- and 15-year-olds trying to seduce each other. Fun!