Sacha Baron Cohen character interviews OJ Simpson on 'Who is America' and jokes about killing women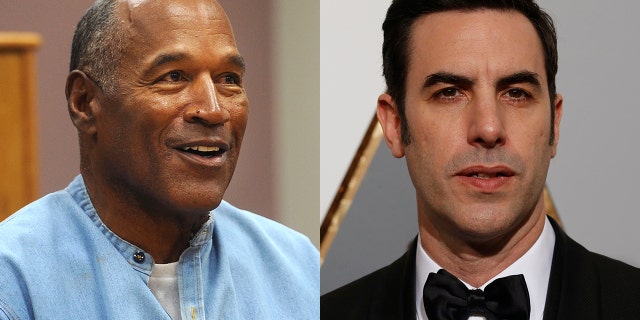 Showtime aired an interview of Sasha Baron Cohen with O.J. Simpson on "Who is America" Sunday night, in which the comedian played an eccentric Italian billionaire who jokes about killing his girlfriend.
Entertainment Weekly reported that Simpson was unaware that he was being interviewed by the comedian, and instead believed he was sitting down with Gio Monaldo, a playboy and fashion photographer.
The interview took place in Las Vegas and the character confides in Simpson that he sometimes wants to kill his girlfriend — who was played by an actress. Gio said he'd like to "send her on a private helicopter and throw her over the Grand Canyon — oopsy daisy."
"Oopsy daisy," Simpson replied with a laugh.
"Maybe I send her on a bungee jump ... oops, the cord!" Gio continued.
"The cord's extra long," Simpson then said, laughing.
After an awkward moment, Simpson told Gio to "stop."
Gio told Simpson that they have at least one thing in common: they're both "ladykillers."
Simpson laughed and said, "No, I didn't kill nobody."
At one point during the interview, Cohen's character told Simpson he had a wealthy business partner who would pay to hear about what really happened with "the wife."
"Well, first of all, she wasn't my wife. We had been divorced," he said. "And second of all, I didn't do it. … I didn't 'get away' with nothing."
Simpson was released on parole on Oct. 1 after nine years for a different crime. He was in prison for leading five men, including two with guns, in a September 2007 confrontation with two sports collectibles dealers at a Las Vegas casino hotel.
Simpson insisted he only wanted to retrieve personal mementoes and items stolen from him following his acquittal in Los Angeles in the 1994 slayings of his ex-wife, Nicole Brown Simpson, and her friend, Ronald Goldman.
Simpson was found liable for the killings in 1997 and ordered by a California civil court jury to pay $33.5 million to victims' families.
The Associated Press contributed to this report