Ruby Rose in wheelchair after spine surgery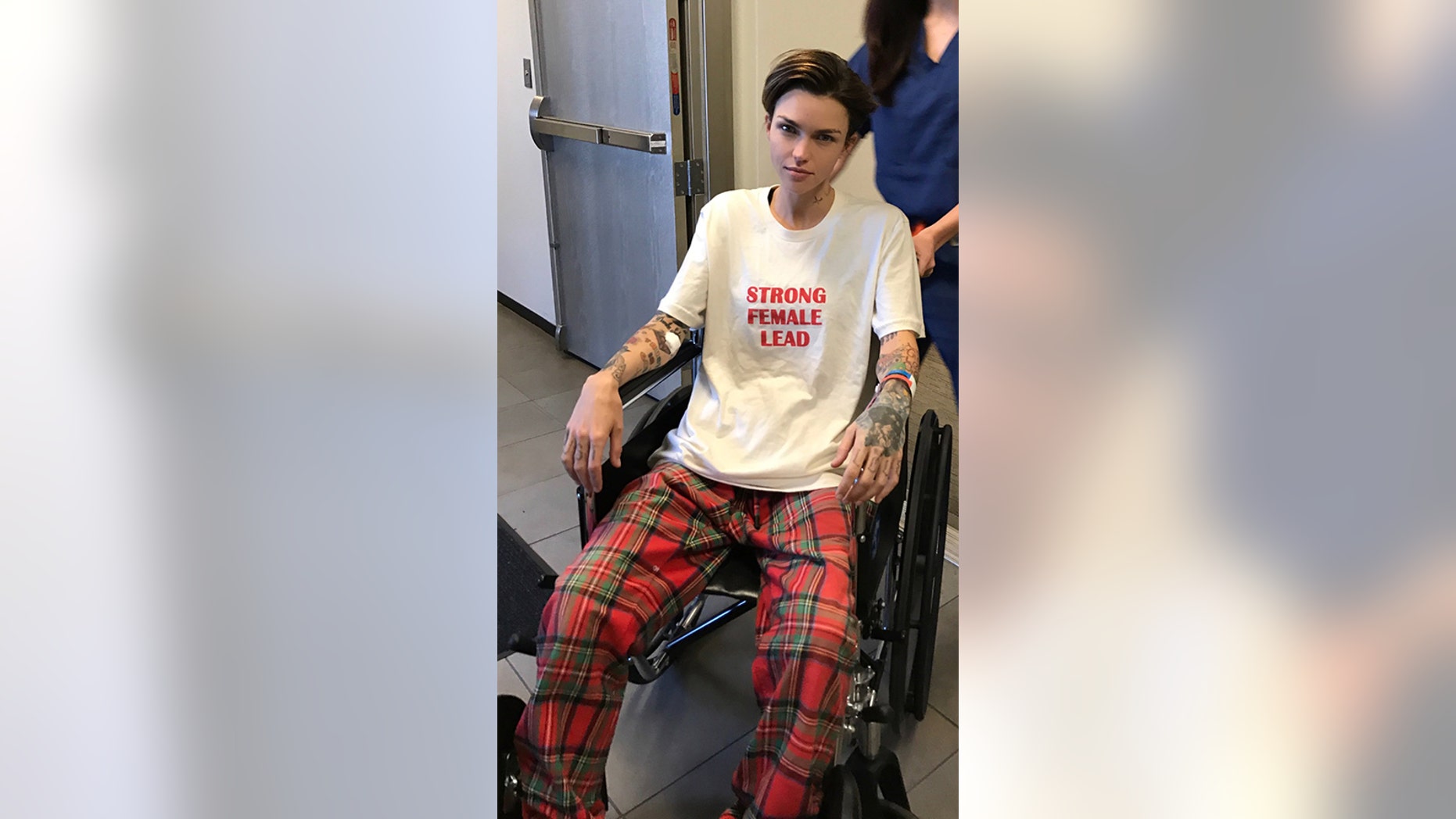 Ruby Rose assured fans that she will be "fine" after sharing a new photo of herself in a wheelchair post spinal surgery.
On Thursday morning, the "Orange Is The New Black" actress shared a photo of herself on Twitter sitting in a wheelchair while sporting a white T-shirt that read: "Strong Female Lead."
"So..For the past few years (decade) I've been dealing with a spine issue," she wrote. "I am now recovering from a back procedure, but I do need to stay active, so before I get seen with my cane and wheelchair in public, I'd rather put it out there that I'm fine and going to be fine."
Rose explained to fans that she made the decision to go under the knife for the back procedure after a long-standing battle with the health issue.
A few of Rose's celebrity friends, such as Victoria Secret model Martha Hunt, chimed in on Twitter, to share support for the 31-year-old actress.
Hunt tweeted: "Ouch.. Stay strong Ruby!!!"
Rose also used the platform to ask friends like Chrissy Teigen for TV show recommendations to keep herself entertained while in recovery.
Rose wrote: "What I need to know now is when I'm not wheeling around LA like a 102 year old, what movies, shows, books and video games do you suggest… I'm buying a switch.. I'm looking at you @chrissyteigen what games should I get?"
Back in October, the celebrity received backlash for her thin frame after attending the CFDA/Vogue Fund Fashion Show looking abnormally skinny in a backless, silver sequin gown. Fans commented on Rose's Instagram calling the star "anorexic."
But Rose slammed haters in an Instagram note that read:  "Body shaming S— ME. It's so frustrating. Not because I care what someone thinks of my body. I love my body when I don't work out and I am soft and I love it when I train hard and feel strong."
Rose went on to explain that her body — much like everyone's— is constantly changing and looks different depending on what she is doing at the time. "I trained my ass off for three action films, I used to be a boxer. My body is just my body it fluctuates and it changes depending on how hard I train," she said.
After tweeting about her surgery and recovery, the actress also used the platform to announce another big health inspired decision.
"On the plus side guess who had to quit smoking !!!!! YAY!!!! Im done ! I'm finally done.. that filthy, smelly, dirty, slowly killing you while you pay for it to suffocate you, is finally out of my life. I quit yesterday. And for my back ( and Mum ) I'll never start again."