'Roseanne' revival premiere packs politics into the family's big return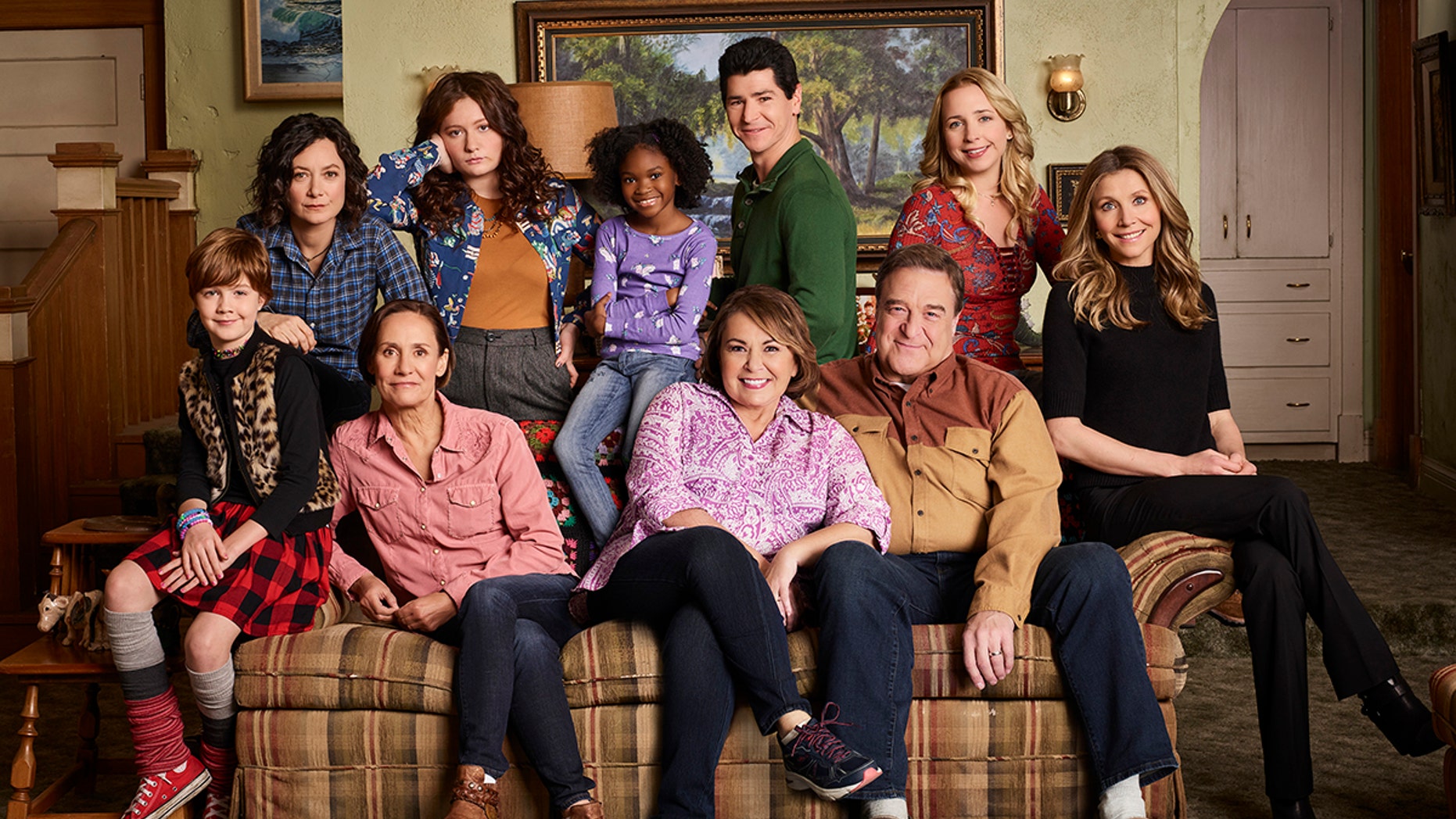 After more than 20 years away, America got its chance to catch up with the Conners and, although precious little has changed for the family, the newly premiered revival of "Roseanne" proved that even they're not immune to the changing political times.
They're back and then some
The revival debuted with back-to-back episodes that caught up with the family that fans grew to love, while warming them up to new characters. The premiere opened with Roseanne and Dan waking up in their master bedroom where he laments the fact that their nest is full once again. Darlene apparently quit her job to move in and take care of her parents, and she has brought her teenage daughter and young son with her.
After a little bedroom romance, Dan finds Roseanne later in the day at the breakfast table.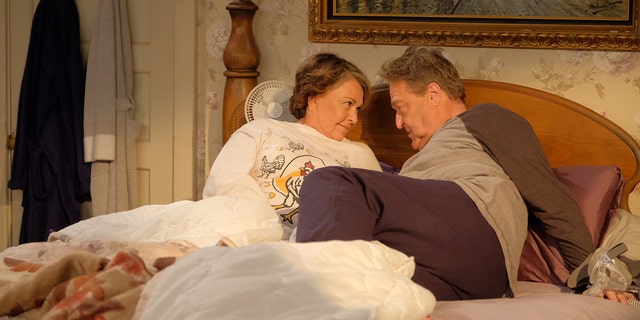 Soon after, Darlene comes downstairs to scold her mom for eating Marshmallow Peeps for breakfast. The first of her two children, Mark, then is introduced when he comes down wearing girls' clothes. Dan's eyes go wide, but Roseanne whispers that their marching orders from Darlene are to ignore it as he's going through an exploration phase. He's reluctant, but obliges. Next, Darlene's teenage daughter, Harris, enters and asks for money. Obviously, she doesn't get it and further finds out that she has to cancel her after-school plans to babysit while her mom goes on a job interview.
"You're ruining my life, you all suck!" she screams before storming upstairs.
"I haven't seen that movie in 20 years," a delighted Dan jokes. "Wow, classics really do hold."
That's when the conversation turns to Aunt Jackie, and the politics come into play. It's revealed that Jackie and Roseanne haven't spoken since the 2016 election. Although Donald Trump and Hillary Clinton are never mentioned by name, it comes out that Jackie supported the latter while Roseanne wanted to see what the former had to offer. Darlene hopes to mend their relationship by inviting Jackie over, but it proves tougher than she realized when Jackie shows up ready to debate.
Who they voted for
"Why don't you fix that knee with all that healthcare you were promised?" Jackie mocks.
"It's good enough to kick your a--, snowflake," Roseanne fires back.
Debates aside, Jackie secures an invite to family dinner later that night. That's when fans get their first look at a returning DJ and his daughter Mary. It's revealed that he went on to join the military and has returned recently from Syria. His wife, however, is still there.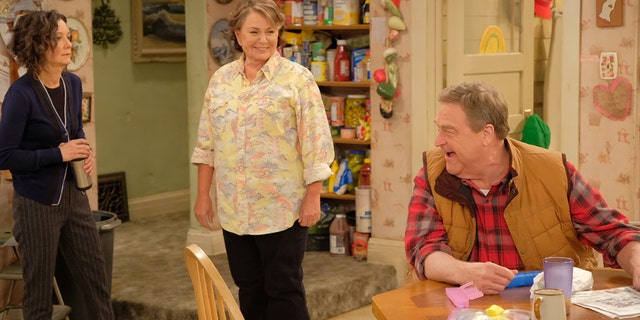 Soon after, Becky, played by original actress Alicia Goranson, enters to announce that she's having a baby … kind of. She's been offered $50,000 to be the surrogate for another woman. The only catch is that the woman believes her to be 33, when her actual age is 43.
The family isn't necessarily on board with the decision, especially Dan who starts to yell. Jackie interrupts and notes that it's Becky's body and therefore her decision. She looks to her sister for support and a reluctant Roseanne has to agree. Dan storms into the garage to drink beer and fume.
Meanwhile, Becky and Darlene get a chance to chat and flex their age-old sibling rivalry. Becky says that she shouldn't be getting judgement for her decision to be surrogate, particularly from someone like Darlene who moved back in with her parents. As Becky storms off, Roseanne enters having eavesdropped on everything. She reveals that she knows Darlene didn't quit her job but was fired. She comforts her crying daughter who is sad because Darlene thought her life would be better. Darlene says she always hoped she'd be able to buy a house that she could hold over her mom's head.
"Man, that would have been sweet," Roseanne admits.
Roseanne then goes to the kitchen to put out another fire, her ongoing argument with her sister Jackie.
Roseanne asks Jackie why she's encouraging Becky, but the conversation quickly becomes political as Jackie comments on the state of the world and being on the brink of nuclear war. Realizing that she may have taken the topic too far, Jackie breaks down and admits that Roseanne's constant questioning of Hillary as a candidate put seeds of doubt in her head and mixed her up enough to vote for Jill Stein. She says that she blames herself for being part of the reason Trump got elected, and blames Roseanne even more for making her doubt herself.
"I'd rather be alone than let you bully me again," she says.
That's when the two find common ground with their politics. Jackie gets that Roseanne is more worried about her family and her bottom line, which made Trump a reasonable option. Roseanne admits that Jackie wanting everyone to have healthcare, for example, is just a result of her being a caring person.
New kids on the block
The premiere ends with Becky getting a visit from the woman that wants her to be a surrogate. Andrea, played by Sarah Chalke, says she wants to meet the family to get a better idea of her genetic makeup.
That's where episode two kicks off, with Becky furiously cleaning the house to look good for Andrea. Meanwhile, Darlene is getting her kids prepared for the first day of school, which forces Dan and Roseanne to break their silence on Mark's clothing. Dan says that he's fine with boys doing traditionally girly things and vice versa, but his experience in school taught him that Mark's personal safety could be at stake. Darlene, however, only cares that he gets good grades, and is happy "for a Conner."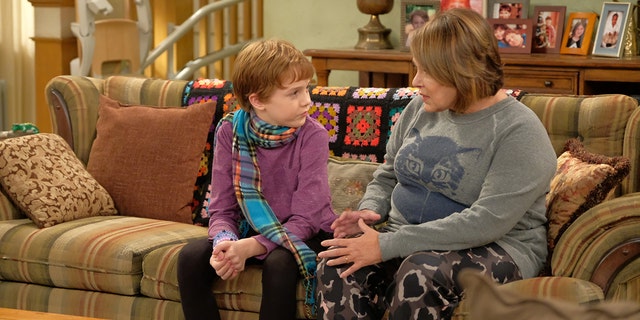 Roseanne takes a more subtle approach and asks Mark directly if he identifies as a boy or girl. He quickly responds that he's a boy, but feels that girl's clothes make him more comfortable and are more in line with his personality. The conversation ends with her telling him that school will be hard, but she's got his back.
'This whole family is weird'
During Andrea's visit, Darlene comes home early with Mark. Apparently, he pulled out a knife at school and was sent home early. It's revealed that Dan gave it to him, but not for the purpose of bringing it to school.
"He has a pocket knife, I thought it'd be a gateway to pockets!" he says, doubling down on his concern for Mark's safety.
When Darlene goes upstairs to talk with Mark, she learns that the other kids didn't want to play with him because he's weird. The only reason he had the knife out was to give to another boy that was threatening to hurt him.
"Here's the thing, you are weird. I'm weird, this whole family is weird," she says, explaining that people eventually will like them all for who they are.
The next day, he's dressed for school in traditionally female clothes again, this time with the whole family's support. Darlene notes that she packed a bag with a t-shirt and pants just in case things get too intense.
"You're still going to be you."
"No, I won't."
As for the kid who bullied him, Mark shows surprising maturity saying, "He'll get tired of it eventually, I like my clothes."
"Tough kid," Dan jokes. "I'm going to miss him."