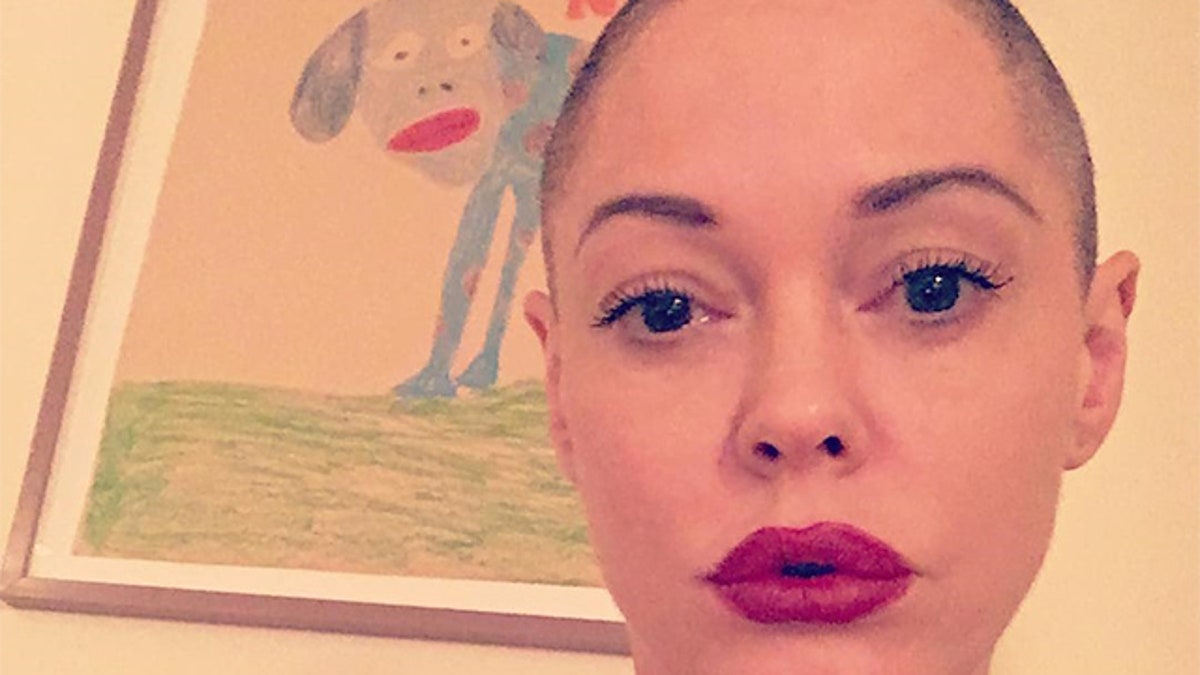 Rose McGowan is ready "for some goddamned honesty in this world."
The 43-year-old actress took to Twitter on Thursday to drop a bombshell amid an ongoing national dialogue regarding rape culture and consent, spurred by the continuing allegations of inappropriate sexual behavior and comments by Republican presidential candidate Donald Trump. While McGowan has been active in promoting the #WomenCanStopTrump movement in recent days, she also made a point to call out her Hollywood colleagues specifically.
RELATED: Michelle Obama Speaks Out About Donald Trump Tape: 'It Has Shaken Me to My Core'
Contributing to the #WhyWomenDontReport hashtag, McGowan wrote: "Because my ex sold our movie to my rapist for distribution," "Because it's been an open secret in Hollywood/Media and they shamed me while adulating my rapist," and "A (female) criminal attorney said because I'd done a sex scene in a film I would never win against the studio head."
READ: Rose McGowan Calls Donald Trump a 'Murderer in the Making'
This isn't the first time McGowan has spoken publicly about being a survivor of sexual assault. In August, she reportedly shared an original poem about her experience at a Brooklyn event protesting convicted sex offender Brock Turner's six-month jail sentence.
In the aftermath of a leaked 2005 conversation with then-Access Hollywood-host Billy Bush, where Trump disparaged women, including ET's Nancy O'Dell, and bragged about being able to commit sexual assault, several new recordings have come to light. A number of accusers have also come forward with allegations about Trump's conduct that call into question his attitude towards women.
This includes two women who came forward in a New York Times interview accusing Trump of touching them inappropriately in the past -- Trump has denied these claims -- as well as "Celebrity Apprentice" contestant Richard Hatch's allegation to People that during his time on the show in 2011, Trump would make "sexual comments ... to all the women on the Apprentice, including Marlee Matlin, and Lisa Rinna."
Trump's campaign dismissed Hatch's allegations as "completely false" to People, and the candidate has repeatedly defended his 2005 "Access Hollywood" remarks as "locker room" talk, maintaining to Anderson Cooper in Sunday night's second presidential debate that he'd never touched women inappropriately.
Trump has also been accused of forcing himself on People magazine reporter Natasha Stoynoff, who penned a personal essay on Wednesday evening about an alleged incident in December 2005. Stoynoff claims that while interviewing the Trump family at Mar-a-Lago, the real estate mogul cornered her alone in a room "forcing his tongue down my throat" while his pregnant wife, Melania, was changing upstairs. The longtime journalist also asserted that Trump whispered to her, "You know we're going to have an affair, don't you?" She says that she told a co-worker about the incident at the time, but ultimately decided not to bring it up to her managing editor.
Trump's spokeswoman denied the People essay, saying, "This never happened. There is no merit or veracity to this fabricated story."
WATCH: EXCLUSIVE: Donald Trump Makes Lewd Joke to Young Girls in 1992: 'I'm Going to be Dating Her in 10 Years'