Rio de Janeiro Film Festival Floods Town with Some 400 Films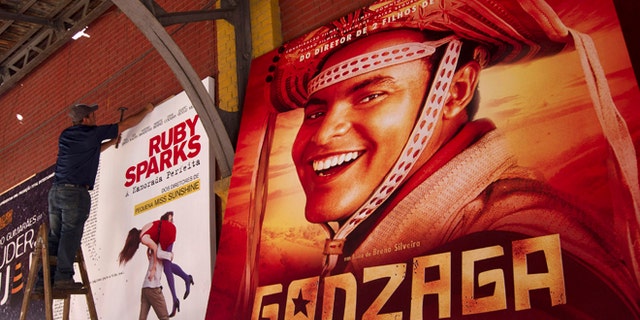 RIO DE JANEIRO – The Rio de Janeiro Film Festival will take over the famed city with some 400 movies, including new offerings from top directors like Francis Ford Coppola and Steven Soderbergh.
The festival that launched late Thursday is Latin America's largest in terms of sheer volume, with feature films, documentaries, shorts and children's movies from more than 60 countries. They will be shown at some 30 venues, including commercial movie theaters, an open-air screen on Copacabana beach and in the Complexo Alemao hillside shantytown.
Organizers have said they want to bring movies to people in poor neighborhoods who might not normally set foot in a movie theater. Last year, some 250,000 spectators attended the two-week-long event, organizers said.
The screenings launched with the highly anticipated film "Gonzaga — from Father to Son" by Brazilian director Breno Silveira, whose 2005 biopic about two Brazilian country music stars, "Two Sons of Francisco," was among the most popular Brazilian films of recent years, grossing a record $21 million.
"Gonzaga" is another tear-jerking film about Brazilian music legends: It examines the rocky relationship between the legendary folksy musician Luiz Gonzaga and his son, Gonzaguinha, also a famous singer. The audience, which included "Little Miss Sunshine" directors Jonathan Dayton and Valerie Faris and Korean filmmaker Sang-soo Im, roared, whistled and yelped its approval.
British actor Jeremy Irons, "The Killing Fields" director Roland Joffe and Serbian-born performance artist Marina Abramovic are among those expected at the festival. Irons is coming to promote "Trashed," the documentary about the global garbage epidemic that he produced and narrated, while Joffe was defending his Spanish Civil War drama "There Be Dragons." Abramovic is the subject of not one but two documentaries in the festival lineup.
Other highlights include Coppola's "Twixt," Soderbergh's "Magic Mike," Stephen Frears' "Lay The Favorite," Michel Gondry's "The We And The I" and "Michael Jackson Bad 25" by Spike Lee.
There are more than 70 Brazilian films, including shorts, making the festival one of the premier showcases of the giant Latin American nation's burgeoning cinema industry. The festival's industry section, RioMarket, includes workshops by leading Hollywood professionals like Chris Newman, a three-time Best Sound Oscar recipient for his work on "The English Patient," ''Amadeus" and "The Exorcist."
The festival runs through Oct. 11.
Based on reporting by the Associated Press.
Follow us on twitter.com/foxnewslatino
Like us at facebook.com/foxnewslatino