Restaurateur to the Stars Elaine Kaufman Dead at 81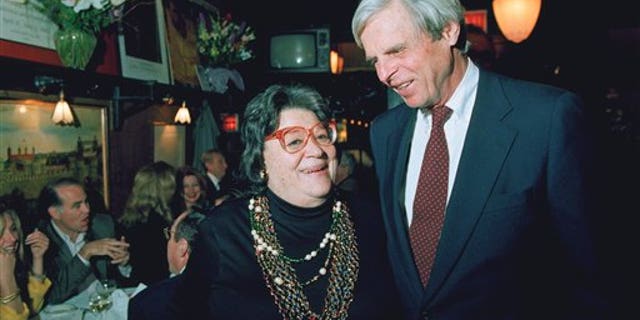 Elaine Kaufman, the colorful restaurateur whose East Side establishment, Elaine's, became a haven for show business and literary notables, died Friday at the age of 81.
Kaufman died at a Manhattan hospital of complications from chronic obstructive pulmonary disorder and pulmonary hypertension, according to a statement issued by the restaurant's representative.
Kaufman was a veteran waitress and cafe manager in Greenwich Village when she bought a small bar-restaurant near the corner of Second Avenue and 88th Street in 1963.
It was never about the design or the food -- basic Italian fare. It was all about the owner-hostess, an outsized mother figure in a tentlike dress, and her friendships with the famous.
Norman Mailer, Gay Talese and George Plimpton quickly became regulars, and over the years the glitterati joined the literati. Even Jackie Onassis went there.
"It offers an ambience of camaraderie that is centered on Elaine herself. She's the den mother there," Talese said in 1988. "It's like a boarding house: You've got the round table, and you don't need a reservation if you're a friend of hers."
Among those showing up at a 25th anniversary celebration were Sidney Lumet, Peter Maas, Eli Wallach, Raquel Welch, Jackie Mason, Billy Dee Williams and Cheryl Tiegs.
Woody Allen opened his movie "Manhattan" with a scene set in Elaine's. He became a regular, Kaufman told The Associated Press in 1988, because "he loves to people-watch. It's comfortable, nobody bothers him, we make him what he wants."
Bobby Zarem, a soft-spoken public relations specialist who has worked with everyone from Dustin Hoffman to Cher to Michael Douglas, had been close friends with Kaufman for 47 years.
Zarem was working for a large PR agency in New York when he walked into Elaine's three weeks after it opened. The two became fast friends and, he said, she encouraged him to open his own shop. He in turn brought his clients to the restaurant and began throwing events there -- from movie promotions to book parties. Elaine's soon became the party place of New York.
"I just don't know what to say," Zarem said through tears from his home in Savannah, Ga. "We were best friends and extremely supportive of one another. She was supportive of everybody -- especially writers."
Kaufman was particularly close to Talese and Plimpton, and would allow out-of-work writers to eat for free, said Zarem, who once entertained celebrities such as Allen, Kirk Douglas and Michael Caine there.
"She was just this great, big wonderful woman. She was smart and very smart about people. You could trust her and talk about anything ... and you could sit up there until 2 in the morning," Zarem said.
Critics noted that ordinary tourists got less-well-placed tables and paid Cadillac-style prices for Chevrolet-style food, but Kaufman said detractors and celebrity-watchers alike made too big a deal out of the place.
"I think a lot of people just come in to have dinner," she said. "And you have a good time. A good bottle of wine, a nice plate of pasta -- I mean, that's life."
Still, there was no denying that she steered less-interesting people toward the back room.
"Elaine does not consider herself a snob," Washington Post writer Sally Quinn wrote in 1970. "It's just that she has an idea of the kind of place she wants to run and the kind of people she wants to see there."
Kaufman told Quinn: "You don't have to be a writer to have the kind of personality for a restaurant like this. ... We have a butcher who comes in with his wife every week. It's just that the people who come here are a little more sophisticated but not pretentious sophisticated."
She was proud that she didn't change her business to keep up with current fashions.
"I started with a little restaurant and that's what I've ended up with," Kaufman said in 1993. "It wasn't broke so I didn't fix it."
One change was forced upon her in 2003, when the city banned smoking in restaurants. She said she had quit smoking several years earlier but was unhappy about forcing customers to forgo tobacco at their seats.
"In my business, it's about hospitality," she wrote in a 2002 New York Times essay. "We serve people. We like to please. We'd much rather say yes than no. ... So what do we have now? Mayor Michael R. Bloomberg wants us to ban smoking entirely. He wants us to say no to the customers."
Kaufman was born in 1929 in the Bronx ("My mother never told me we were poor") and never went to college.
In the 1970 Washington Post profile, Kaufman said she started out working in cosmetics sales and began her restaurant career to help out a friend.
"It was the best thing I'd ever done; it combined all the things that were easy for me," she said. "I have a feeling for people."