Report: San Diego Chargers fan says Nick Lachey attacked him at football game, called wife a derogatory slur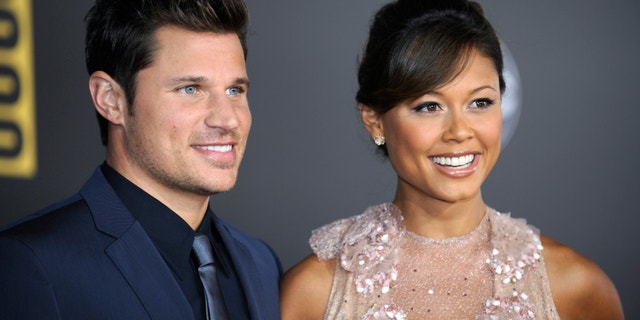 A San Diego Charger fan is claiming that not only is 98 Degrees singer Nick Lachey a rude heckler, he also attacked him and called his wife a name at Sunday's Bengals-Chargers game in San Diego.
Lachey, who was escorted by security with his pals from the game, denies he did any such thing.
According to the unnamed fan's accounts to TMZ, Lachey choked him at Qualcomm Stadium and called his wife a "F--king b--ch."
In a blurry video obtained by TMZ, Lachey seems to get into it with a fan wearing an Igor Olshansky #99 jersey. Olshansky played for the Chargers from 2004 to 2008).
The fan wearing the jersey said Lachey had been trash-talking him about the shirt all game, and after what the fan said was a particularly offensive comment from Lachey, he replied: "Well, he lasted longer than your boy band."
That's when Jessica Simpson's ex allegedly lunged for the fan, grabbed his throat, and shoved him. Lachey and his friends were then escorted out, while the Chargers fans were allowed to stay.
The Chargers fan plans to file a police report against Lachey, TMZ reports, but Lachey's rep called his claim completely bogus.
"This was a verbal exchange between sports fans of opposing teams that went too far. While Nick isn't proud of what happened, he did not choke anyone or use defamatory language to any women at the stadium -- which the video tape clearly supports," his rep told FOX411. "Nick and his friends were interviewed by police outside the stadium and quickly released with no charges filed. We categorically deny any accusations that say otherwise and would defend against those claims should they arise."
Lachey, 39, a Cincinnati native and huge Bengals fan, first tweeted a photo of Chargers stadium on Sunday. Then, about three hours later, he tweeted: 'Just got kicked out of the chargers stadium and couldn't be prouder! Go Cincy Bengals! #whodey.'
Finally, Lachey added: 'Bengals win again. i'd talk trash to everyone in SD, but what's the point? you already had me kicked out of the stadium and you still lost.'