Remote Alaska Walmart wins visit with Pitbull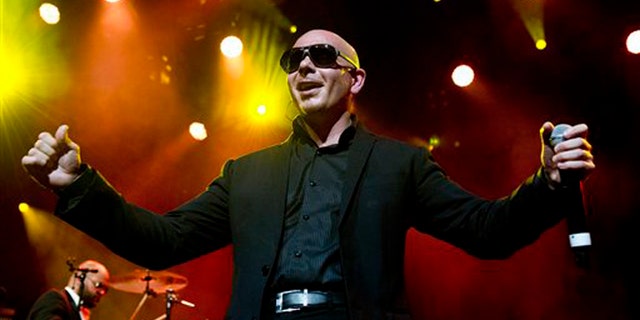 ANCHORAGE, Alaska – It's not exactly "International Love," but Miami rap star Pitbull is about to bring his act to a nonetheless far-flung site -- Kodiak, Alaska.
The unlikely tour stop announced Tuesday will mark the first time the chart-topper will visit the state known as The Last Frontier, and it comes as a result of a marketing deal and perhaps a little mischief.
Pitbull, aka Armando Christian Perez, in a promotion with Walmart and Sheets Energy Strips, agreed to visit whichever Walmart got the most "likes" on its Facebook page.
David Thorpe, a writer for The Boston Phoenix, thought it would be funny to exile the "Give Me Everything" rapper to the most remote Walmart possible, and encouraged people to "like" the Walmart in Kodiak.
The store in a city with a population of about 6,100 wound up with more than 70,000 "likes." The surrounding borough, which Alaska has rather than counties, has about 14,000 people.
Walmart spokeswoman Sarah Spencer said details of the trip are still being worked out, including whether it will be a one- or two-day appearance.
Pitbull will spend time in the community and with Walmart employees, Spencer said.
Pitbull appeared in a YouTube video Tuesday while on tour in Madrid, Spain.
"I heard that Kodiak, Alaska, has the most likes due to someone who thinks he was playing a prank," Pitbull said on the video. "I said, `OK, great, this sounds really good.' You have to understand I will go anywhere in the world for my fans."
And he doesn't want to make the trip alone.
"I want to invite that someone who thinks it's a joke to Kodiak, Alaska, with me," he said.
It appears that invitation will be accepted.
In an email to The Associated Press, Thorpe said it's "very likely" he'll be in Kodiak. Thorpe said he had to "raise the funds to get to Kodiak on my own, since Pitbull's invitation doesn't include actually getting me there."
Thorpe said he doesn't really have anything against Pitbull, and instead saw this as a way "to disrupt a corporate social media campaign, since they really set themselves up for it."
He said he did make a little fun of Pitbull in his column "for having to act enthusiastic about being sent to a random Walmart, so I wanted to make sure he went somewhere interesting."
Thorpe said he has no idea what to expect when both men are in Kodiak.
"I guess my one regret is that everyone on the corporate side will probably spin this as a Big Social Media Win, which is kind of gross."