Reality Show About Brides Competing For Plastic Surgery Gets Slammed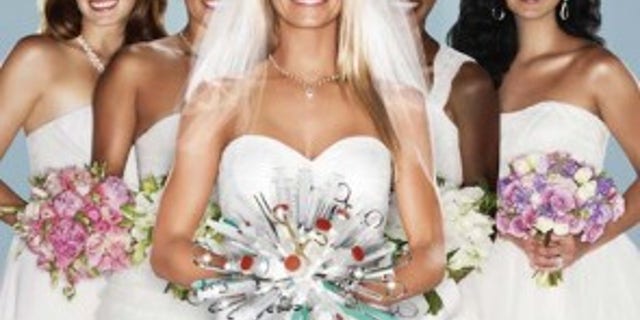 Forget "Extreme Makeover" and "The Swan" – we're about to be nipped and tucked with a controversial new reality show that combines women's willingness to go under the knife, with walking down the aisle.
On November 28, E! will debut its new reality show "Bridalplasty," featuring 12 brides-to-be competing in relationship and wedding-related challenges each week to win plastic surgery varying from veneers to brow lifts to breast enhancements.
Prior to competing, each contestant consulted with star surgeon Dr. Dubrow to formulate a personalized surgery "wish list." One-by-one the women are eliminated, and the last lucky blushing bride left wins her dream wedding, in addition to the rest of the surgical procedures on her "wish list."
But according to one behavior expert, "Bridalplasty," hosted by former Miss USA Shanna Moakler (what, Heidi Montag wasn't available?) is an attack on women and reinforces the message that one can never be good enough.
"Women are bombarded with advertising and messages that there is something wrong with them, something missing – they need to look younger, slimmer and change the shape of their body – they need to be perfect," relationship expert Dr. Patrick Wanis told Pop Tarts. "This new show tells women, that even after a man has fallen in love with you the way you are, you still need to do more, you still need to be better because you are simply not good enough."
Challenges and surgeries aside, viewers will also have the chance to see first-hand the pleased (or quite possibly perturbed) reaction the winner's fiancé has when he encounters her physical transformation for the first time, which happens to be at the alter when she lifts her veil. But in undergoing dramatic aesthetic changes right before their big day, are these women setting themselves up for a severe strain on their relationship?
"'Bridalplasty' is damaging to relationships because it encourages the show's participants and all female viewers to focus on their body and not their inner beauty or the love they can express and bring to the marriage and relationship," Wanis said.
Anna David, editor of Reality Matters, concurred that wedding bell blues is something those participating in the show will possibly face once the lights and camera stops rolling.
"It certainly would be far healthier in the long run for a woman to examine the issues behind wanting to change how she looks (like whether or not she's overly obsessed with her appearance, if she has potential body dysmorphia, or if she's striving for perfection rather than accepting the fact that perfection doesn't exist) in talk therapy rather than just going under the knife," David said. "I see fewer issues in the woman's future marriage over the fact that she looks different than how she did when the guy fell for her and more about the woman becoming increasingly convinced that all issues have a quick-fix solution; there's no surgery, after all, that can repair a troubled relationship."
However, other entertainment industry experts don't believe audiences these days are personally swayed by what they see on the small screen.
USC Professor of English & Gender Studies Karen Tongson said "many brides are already under pressure to slim down or transform their bodies by the wedding date in order to fit into that 'once in a lifetime' wedding dress, and 'Bridalplasty' is simply another step down that same path."
And although E! primarily caters to an 18-34 demographic, others feels a show of this nature could pose a danger to younger, more impressionable viewers who turn to the network for its other hit reality shows such as "Keeping Up with the Kardashians" and "Girls Next Door."
"Young girls/women are usually very suggestible; they look to others to define their self-image. When superficiality is glamorized, complexes about physical characteristics are created that didn't exist before," explained Los Angeles-based psychologist Dr. Nancy Irwin.
Even Beverly Hills plastic surgeon Dr. Lawrence Koplin, who is not affiliated with the show, also raised some concerns that the show could create a pressured environment where contestants feel they have to get certain things "fixed" that previously didn't bother them, and that the overall stance of surgery in society today could be damaged.
"I feel that this cheapens plastic surgical skills and that the art of plastic surgery should be considered thoroughly, in what a woman chooses," he said.
A rep for E! did not provide a direct comment, but instead referred us to the show's press and trade releases which outline the show's concept and its 12 diverse contestants that range from ages 21-32.
So whether you loathe or love the concept of "Bridalplasty" – which operates under the tagline "the only show where the winner gets cut" – it has already been projected by many publications as a huge hit, combining two of the greatest female desires (physical perfection and a big white wedding) along with typical reality show ingredients such as drama, tears, challenges, and eliminations.
"I think people are definitely going to be curious enough about it to check it out. Whether it does well beyond its premiere, as always, is all up to the producers and the cast," Hibberd added. "One thing that I think is clever about this is that often with reality shows, the trick is how you end it. Usually, it's just, 'Who's the last person standing?' But with 'Bridalplasty,' it's clever in that it adds A - who wins? B- what do they look like? and C- how does their husband react when they lift the veil?"
Stayed tuned.
- Deidre Behar contributed to this report.