Raven-Symone defends ex-Univision host Rodner Figueroa: 'Some people look like animals'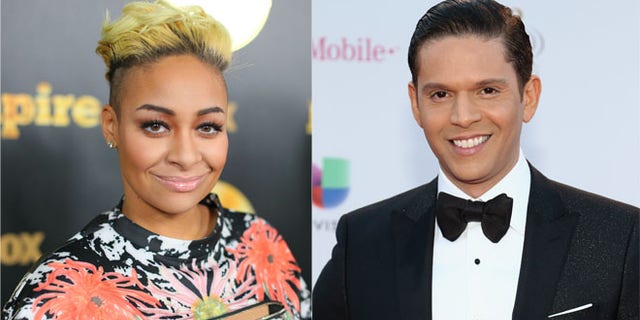 NEWYou can now listen to Fox News articles!
Rodner Figueroa found an ally in actress Raven-Symone.
During a co-host appearance on "The View" on Monday, the former "That's so Raven" star seemed to defend the indefensible Figueroa, who was fired from his hosting duties at Univision last week after comparing First Lady Michelle Obama to the cast of "Planet of the Apes."
Symone argued that Figueroa's comments were not racist and that he had a point, adding that "some people look like animals."
"View" co-host Rosie Perez led the conversation on Figueroa, saying she supported Univision's decision to fire Figueroa, because what he said was racist.
"A lot of Latin people recognize the fact that we do have African blood in us. A lot of them do not want to recognize that fact, and that's where this stems from," Perez said on Monday's show. "There is a secret in the Latin community, specifically the Caribbean, South American, Central American, Latin community, that they are very racist," she added. "They never want to be in the same group as black people. And it's sad. It's very, very sad. And he did say Michelle Obama looks like a cast member of the Planet of the Apes."
Symone stepped in after that: "Was he saying it racist-like? Because, he said that he voted for her later and I don't think he was saying it racist."
A visibly surprised Perez responded with: "Oh, please! That's like saying 'I'm not a racist, I have black friends.' I'm sorry, that's racist."
A back-and-forth ensured among the hosts before Symone said, "Michelle, don't fire me from this right now, but some people look like animals. Is that rude? I look like a bird! So can I be mad if somebody calls me Toucan Sam?"
Since her comments and the subsequent backlash, Symone took to Twitter in an attempt to explain her comments.
"Some comments are rude, some are disrespectful, and some are racist. Try to not exchange one for the other," she tweeted. "My opinion/comments aren't based off race, that doesn't mean i'm trying to be a different race all together. I love OUR history, family...."
She ended with: "We have Irish Culture, African Culture, Asian Culture, Indian Culture Many more running through the veins of AMERICA! Come on [young] peeps."
Figueroa, who made his remarks regarding the First Lady during an appearance on Univision's "El Gordo y la flaca," issued an apology soon after his firing was made public.
He said his comments were misinterpreted and were not directed at the First Lady, but at a characterization made by a make-up artist.
"I am embarrassed, I ask for forgiveness, because there is no excuse for a professional like me to make comments like this that can be misinterpreted as offensive and racist during such a volatile time in our country."
He continued: "I take responsibility for this error in judgment on my part, but I cannot accept being called a racist and fired like this, humiliated by Univision, after 17 years there."
Figueroa, who is of mixed race, was adamant that he is not a racist.
Like us on Facebook
Follow us on Twitter & Instagram