Pusha T blames 'tech dude' for 'F--k Drake' screen that appeared during his performance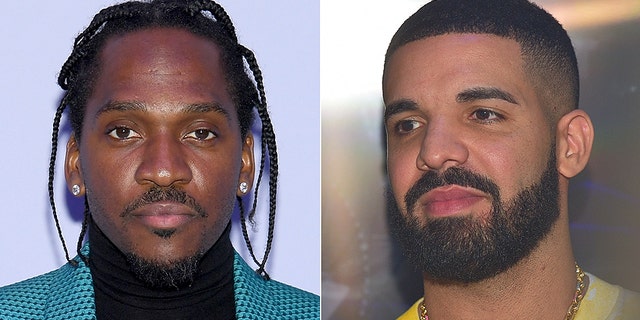 The feud between rappers Drake and Pusha T may have tapered off from a heated back-and-forth over the summer, but a performance at a California festival over the weekend could reignite it.
Pusha T performed at Tyler, the Creator's Camp Flog Gnaw on Saturday in Los Angeles. During his set, the words "F--K DRAKE" appeared in the background, according to Complex.
"The Story of Adidon" rapper quickly denounced the screen in a tweet and blamed one of the tech workers at the festival.
"Corny a-- tech dude f-----g with my screens at @CampFlogGnaw , I speak for myself and all of you know how I make my statements!! Dissing anybody on screen isn't part of my show... Otherwise great festival, thanx @tylerthecreator for having me out," Pusha T wrote.
The rappers feuded over the summer after Pusha T went after Drake on the song "Infrared." Drake then responded with "Duppy Freestyle," which led to a third diss track from Pusha outing Drake as a father.
Drake talked about his problems with Kanye West, who produced Pusha T's "Daytona" album, in an episode of "The Shop" on HBO.
"I'm in Wyoming, I play him 'March 14," Drake said, referencing a song on his "Scorpion" album he shared with West while West was at a recording session in Jackson Hole. "I send him a picture of my son. I tell him I'm having trouble with my son's mother. We had a conversation"
Pusha T defended West last month in an episode on Joe Budden's podcast defending West and revealing it was Drake's producer Noah "40" Shebib who told him about Drake's secret child.
"It may make sense in Drake's mind — 'Oh, Ye told Push about my son and my situation when we was in Wyoming' — it's wrong," he said. "Didn't happen like that. The information came from 40. It didn't come from Kanye. At all."