Priyanka Chopra, Nick Jonas recreate Meghan Markle, Prince Harry's engagement photo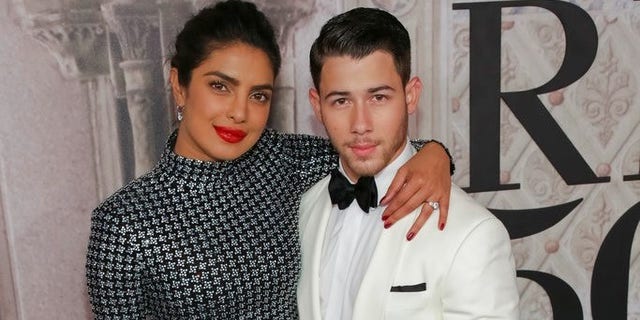 Are Priyanka Chopra and Nick Jonas taking pointers from the Duke and Duchess of Sussex?
The newly engaged couple seemed to recreate their friend Meghan Markle and Prince Harry's engagement photo on Thursday while attending the Ralph Lauren 50th Anniversary fashion show for New York Fashion Week.
Photographer Alexi Lubomirski, who also happened to take the royal couple's engagement photo, snapped the image of Chopra, 36, on the ground leaning against Jonas, 25, who is sitting on a blue velvet chair.
"@nickjonas and @priyankachopra at @ralphlauren 50th anniversary show last night in #NYFW........ What an amazing honour to get to photograph all these amazing people in one night! Thank you Ralph and all the team!!! #RalphLauren #RL50 😊😊 #nickjonas #priyankachopra," Lubomirski wrote in an Instagram post.
JOE AND NICK JONAS DOUBLE-DATE WITH THEIR FIANCÉES PRIYANKA CHOPRA AND SOPHIE TURNER
The picture looks similar to Markle and Harry's engagement photo that was taken last December prior to their royal wedding. In both pictures, Chopra and Markle place their hands in a similar fashion that show off their engagement rings.
Many fans commented on Lubomirski's post, saying it was a "stunning" portrait of Chopra and Jonas. One person even commented, "They might as well have [a] royal wedding too."
Chopra and Jonas shocked fans when they announced in August they were engaged after just months of dating. The actress reportedly started dating Jonas in May shortly after returning from London to attend the royal wedding. Chopra had attended the wedding solo.
News soon broke that Jonas popped the question in July.
Chopra posted photos from the couple's engagement celebration in Mumbai, India.
"The only way to do this...with Family and God. Thank you all for your wishes and blessings," she captioned the photos.