Pink Floyd Guitarist's Jailed Son Spends Up to '23 Hours a Day' in Lockdown, Mother Says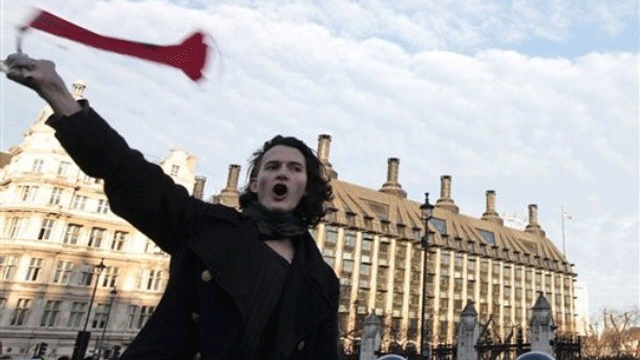 LONDON – The adopted son of Pink Floyd guitarist Dave Gilmour was spending all but an hour of Tuesday locked in a cell for his part in the London riots about college tuition fees last year, according to his mother.
Charlie Gilmour, 21, was given a 16-month prison sentence in July for throwing a trash can at a convoy of cars taking the Prince of Wales and his wife, Camilla, to the theater in December.
Polly Samson, who is married to Dave Gilmour, claimed on Twitter that her son was "being locked in 23 hours a day" in south London's Wandsworth Prison.
The Cambridge University student also was offered lessons in pickpocketing by a fellow inmate, Samson wrote in another post.
"Pickpocket has offered tutelage but shortage of pockets on prison uniforms," she said.
The 49-year-old author and lyricist advised would-be rioters to cover their faces to avoid identification.
"I would advise anyone who's thinking of protesting to wear [a ski mask]. Is so unfair that only one side gets to wear armor," she tweeted.
Gilmour had admitted violent disorder, saying that by the time he joined protesters in London's Parliament Square, he had taken LSD and Valium, drunk whisky and not slept for 48 hours.
The adopted son of Dave Gilmour, he was said to have turned to alcohol and drugs after being rejected by his natural father, the poet Heathcote Williams.
The judge at Kingston Crown Court, in southwest London, called Gilmour's behavior "deeply offensive" and said he caused public outrage. "What you did went far, far beyond proper protest," the judge added.
The history undergraduate was filling his time in jail by writing letters to his loved ones, Samson added.
"Think letters are what keeps him sane," she wrote. "His are amazing and reassuring because he's maintaining his sense of humor."