Nicki Minaj claims she is dating Eminem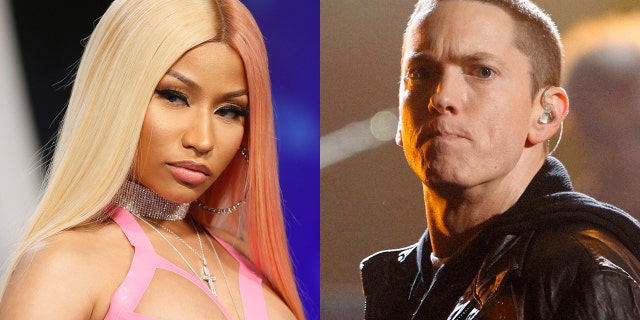 Nicki Minaj and Eminem could be a new couple.
Fans speculated that the rappers became an item after Minaj released her single "Big Bank," which featured eyebrow-raising lyrics about the "Lose Yourself" rapper.
"Told 'em I met Slim Shady, bag the Em / Once he go black, he'll be back again," she raps in the song that also features Big Sean and 2 Chainz.
Minaj also promoted the new track on Instagram, in which she referenced her Eminem lyrics again in the caption. Curious about all the Eminem mentions, a fan went right out and asked Minaj, "You dating Eminem???"
"Yes," Minaj responded.
Page Six has reached out to reps for both artists for comment.
Eminem has said that dating has been difficult since divorcing Kim Mathers in 2001 and admitted to using dating apps to find romance.
"Yeah, Tinder. And Grindr," he told Vulture. "I also used to go to strip clubs."
He continued, "What can I say? Going to strip clubs is how I was meeting some chicks. It was an interesting time for me."
He might be able to delete those dating apps now.
This story originally appeared in the New York Post.