Next installment of 'Star Wars' being filmed in United Arab Emirates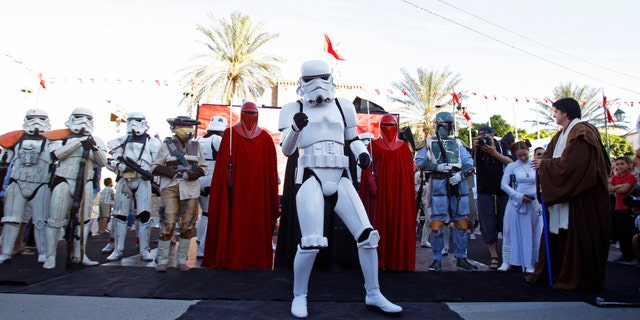 The rumors began swirling a long time ago. Now the United Arab Emirates is finally acknowledging it is standing in for George Lucas' galaxy far, far away.
A media company backed by the Gulf federation's capital of Abu Dhabi announced Wednesday that the next installment of "Star Wars" is currently filming in the oil-rich Middle Eastern emirate.
It was the first definitive word from the Mideast nation that filming had begun. Officials previously had refused to confirm any involvement with the seventh installment of the galactic franchise, even after a government-owned paper reported on the preparations.
The media company, known as twofour54, said director J.J. Abrams and cast arrived in early May.
It made no mention of any specific droids or Jedi involved.
"We are extremely excited about being part of such a huge movie," Paul Baker, executive director of twofour54 Intaj, the company's production services division, told The Associated Press. "It's a good demonstration that we are well on the way to establishing a long-term production environment in Abu Dhabi."
Abu Dhabi has invested heavily in trying to establish itself as a center of media production and a destination for filmmakers from around the world. So has the nearby Emirati city of Dubai, which played a central role in the 2011 blockbuster "Mission: Impossible — Ghost Protocol."
Filming on "Fast & Furious 7" recently wrapped up in Abu Dhabi. The American soap opera "The Bold and the Beautiful" also filmed in the Emirati capital this year, as did Bollywood feature "Bang Bang."
More than 600 international and regional crew as well as lead and supporting cast members are in the Emirates for the "Star Wars" shoot, according to Baker.
He wouldn't say how much The Walt Disney Co.'s Lucasfilm division was spending in Abu Dhabi, describing it only as "significant." The filmmakers will be taking advantage of a 30 percent rebate on production costs.
The government-owned daily newspaper The National reported last month on apparent preparations for the filming deep in the desert, and later said that the police and army had been deployed around the site to keep onlookers away.
While he was unable to confirm what specific measures were being taken, Baker defended the intense secrecy surrounding the shoot
"A very important part of us building our film industry is ensuring we are able to maintain confidentiality on film projects," he said. "This one being the most anticipated movie shooting this year, it's quite reasonably shrouded in secrecy."
Disney bought Lucasfilm for just over $4 billion and said it would revive the "Star Wars" franchise in 2012.
Lucasfilm President Kathleen Kennedy described Abu Dhabi as "an incredible place to commence this journey" in the twofour54 statement Wednesday.
"Star Wars: Episode VII" is scheduled for release in December 2015.