New documentary 'Finding Oscar' recounts events of 1982 Guatemala massacre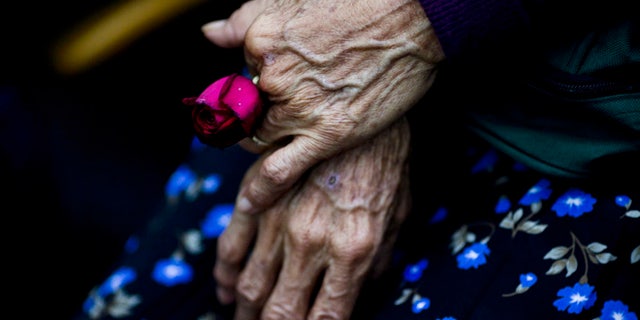 NEWYou can now listen to Fox News articles!
GUATEMALA CITY (AP) – Ramiro Osorio still has vivid memories of the day that death came to his village of Las Dos Erres over 30 years ago at the height of Guatemala's decades-long civil war.
Soldiers massacred more than 200 people at the town in the remote northern region of Peten. The 5-year-old Osorio's life was spared, but he was abducted by a soldier who he says kept him as a slave for years, tortured him and even tried to kill him.
"He always told me that if I thought of running away from the house there was no way, that he could find me even five meters below ground," Osorio said. "I was very afraid."
Now the story of the massacre at Las Dos Erres is being brought to the big screen in "Finding Oscar," a documentary executive-produced by Steven Spielberg that premieres this weekend at the Telluride Film Festival in Colorado.
"Finding Oscar" recounts the events of Dec. 6-7, 1982, which began when Guatemalan soldiers went to the village looking for weapons that guerrillas had stolen from them. Troops tortured and raped female villagers, interrogated and executed men and, to cover up the abuses, tossed the living and the dead into a well. Years later forensic workers recovered the remains of 162 adults and 67 children.
It also tells the stories of Osorio and Oscar Ramirez, who was 3 years old when he was abducted from Las Dos Erres. The film's title refers to the years-long search by an activist and a prosecutor for Ramirez, who migrated to the United States at age 17. Genetic testing ultimately matched him to his father, who also survived the massacre and has visited him in the United States.
Osorio lived with Santos Lopez Alonzo, the soldier accused of kidnapping him, until he joined the Guatemalan army at age 18. Last month Lopez was deported from the United States, where he had lived since 2001, and charged by Guatemalan prosecutors with murder, kidnapping of a minor and crimes against humanity. He denies the accusations.
"With the documentary what one hopes is for justice to be done and for what happened in Las Dos Erres to never happen again," Osorio said.
Ramirez and Osorio have been granted political asylum in the United States and Canada. They met for the first time last December, 33 years after the massacre.
"Meeting Oscar and knowing what his backstory was, I was completely surprised," filmmaker Ryan Suffern said. "He was nothing (like) what I thought I probably expect from somebody who had experienced that. He's incredibly kind. He's an amazing father, husband, hard worker, and very gracious and a very warm human being."
Suffern added that he found Ramirez's story "a really interesting point of access into a larger conversation on quite a few different issues, issues of not only genocide but U.S. foreign policy ... and immigration."
During the 1980s, the Reagan administration had direct contact with Guatemala's then-dictator Efrain Rios Montt. A month after the massacre — when the army's atrocities were already known, according to declassified U.S. diplomatic cables — the Reagan administration asked Congress for more economic support for the Guatemalan military.
At least 245,000 people were killed or disappeared during Guatemala's 1960-1996 conflict, according to the United Nations. Other Central American nations also went through bloody civil wars and today are suffering from high homicide rates as hyper-violent gangs terrorize large parts of the population.
"We will use this film to educate more people about what happened," said producer Scott Greathead, who is also a lawyer and helped Ramirez normalize his migratory status. "We hope Americans understand why Guatemalans, Hondurans and others are here (in the U.S.), why they come and what they are fleeing."