NBC infuriates veterans twice in one week as critics point to Peacock Network culture
NBC has infuriated veterans with a pair of incidents over the past week that resulted in critics questioning the culture of the network and examining its lack of sensitivity when it comes to the brave men and women who served in the military.
First, an NBC News reporter was forced to apologize to a wounded veteran on his way to vote after blocking a disabled parking spot during a live shot. While the Peacock Network was already under fire for the parking spot incident, "Saturday Night Live" castmember Pete Davidson sparked outrage when he said that a former Navy SEAL's eye patch made him look like a "hit man in a porno movie."
U.S. Army Brigadier Gen. Anthony Tata (Ret.) told Fox News that NBC is "willing to attack or dismiss anyone that could conceivably support President Trump, including once sacred disabled veterans," and pointed to the network's culture.
"NBC's shameful attacks on veterans are part of a corporate culture that disrespects military and law enforcement service and the sacrifice that comes with it."
"NBC's shameful attacks on veterans are part of a corporate culture that disrespects military and law enforcement service and the sacrifice that comes with it. Their mockery of (former Navy SEAL, now congressional candidate) Dan Crenshaw and attempted prevention of a disabled veteran from voting are just two examples of their creation of a culture that it is acceptable to attack or vilify anyone that might support conservatives or President Trump," said Tata, who became a best-selling author after serving in U.S. Army for 28 years.
Media Research Center Vice President Dan Gainor told Fox News that "NBC clearly refuses to hold its staff accountable for their actions," adding that its "despicable" for the network to mistreat veterans.
"NBC executives have created a culture that allows employees to make fun of wounded veterans and disregard their feelings," Gainor said.
NBC did not immediately respond to a request for comment.
Last week, disabled Air Force veteran James Berrie made national news when he called out an MSNBC crew for blocking – and refusing to leave – the only handicapped parking spot outside his local voting place. Berrie has multiple sclerosis and is bound to an electric wheelchair, but the NBC News crew forced Berrie to park in a spot that left little space for his van's ramp, making it difficult for him to vote.
"This is suppression. If I couldn't park I couldn't vote," Berrie wrote.
Berrie told Houston's KHOU the NBC News reporter initially promised to move, but the crew was still blocking the spot when he returned 15 minutes later.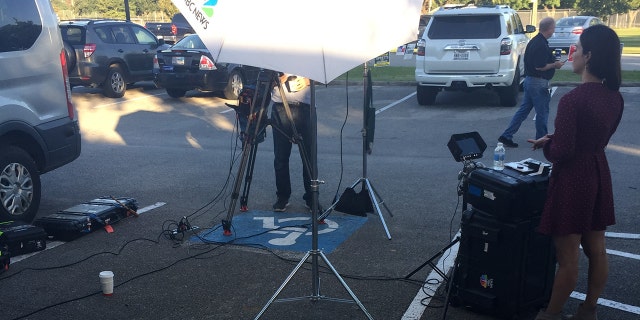 "They had made no effort whatsoever to move," Berrie told KHOU. "Their job is more important than accessibility. There were so many other places to (set up). But you chose to do it here. We're like, 'No. We gotta stand up.'"
MSNBC correspondent Mariana Atencio eventually took to Twitter and apologized, admitting the network "made the wrong call."
Meanwhile, Davidson stirred up new controversy for NBC on Saturday during SNL's "Weekend Update" when he mocked Texas Republican congressional candidate Dan Crenshaw.
Crenshaw wears an eyepatch because he was badly wounded during his third tour in Afghanistan as a Navy SEAL. Davidson said Crenshaw's photo was "kinda cool," but that viewers might be "surprised he's a congressional candidate from Texas and not a hitman in a porno movie."
Davidson added, "I'm sorry, I know he lost his eye in the war or whatever."
Harold Garoutte, a disabled veteran who served in Afghanistan and Iraq, condemned NBC on Twitter. He called the joke "disgusting" and elaborated when reached by Fox News.
"When I saw and heard what was said about candidate Crenshaw I was pissed. Not only should NBC apologize but so should the writers and the comedian," Garoutte told Fox News.
Garoutte said he doesn't "believe it was a coincidence" that the same network upset veterans twice in a five-day span.
"It's a sign of something a lot larger," Garoutte told Fox News.
The "SNL" wisecrack was condemned by people across the political spectrum. NBC reporter Tom Winter even tweeted that "no veteran should be mocked for their service" and expressed outrage at his place of employment.
"This 'joke' was disgusting and as the grandson of two WWII veterans I'm ashamed it was on NBC's air," Winter wrote.
The National Republican Congressional Committee tweeted Sunday morning that Davidson and NBC "should immediately apologize to Dan and to the millions of veterans and military families who tune in every weekend — because they're not laughing."
Former White House Press Secretary Sean Spicer took things a step further, calling not for an apology but for longtime "SNL" boss and television icon Lorne Michaels to be fired over the incident.
Saturday Night Live mocked the appearance of a combat veteran that lost an eye on the battlefield. This was not funny in any way. They scripted it, rehearsed it, laughed at it, aired it and promoted it. VSOs should demand @nbcsnl head Lorne Michaels he fired #FireLorneMichaels
Fox News' Bradford Betz and Tyler McCarthy contributed to this report.