'Morning Joe's' Willie Geist says Matt Lauer sexual misconduct allegations were 'shock to everybody'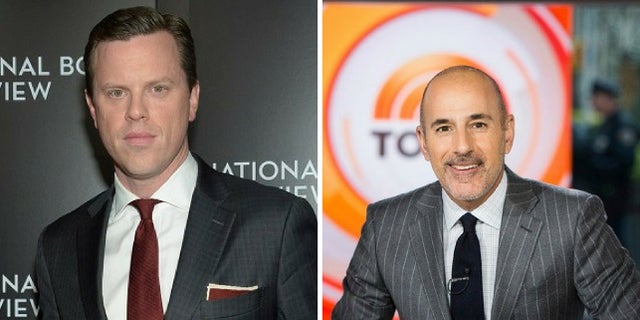 Willie Geist of MSNBC's "Morning Joe" and NBC's "Sunday Today" said the abrupt firing of his former co-worker Matt Lauer due to sexual misconduct was "a shock to everybody."
Geist, 42, told Northjersey.com he was still in shock over the bombshell sexual misconduct allegations against Lauer.
MATT LAUER'S FORMER-MODEL WIFE MEETS WITH LAWYERS TO GET BIGGER SETTLEMENT IF THEY SPLIT, REPORT SAYS
"I was [shocked]. I think it was a shock to everybody," Geist said. "I don't know how you couldn't be surprised. I started filling in for Matt in 2010. I wasn't close to him outside of work, but I considered him a friend and mentor. Certainly he was somebody I looked up to. He was the guy who was considered the best at that job, at hosting a morning show. So, yeah, I think we were all surprised and I think we're all still a little bit shocked by it."
The New Jersey native dismissed rumors that he would take Lauer's coveted spot on the "Today" show. He called the rumors a "fun parlor game."
EX-'TODAY' ASSISTANT WHO ADMITTED TO MATT LAUER AFFAIR CALLED 'WHORE,' HOMEWRECKER'
"I'll just be totally honest with you: I love 'Morning Joe.' I'm on the show that is the place to go in the morning for the hottest story in the world, which is Donald Trump," Geist said. "And I have a show on Sunday — a 'Today' show with my name on it — where I get to write it and help control the content and interview people I find incredibly interesting. I really genuinely love these two jobs."
Lauer, 59, was fired by NBC News in November for "inappropriate sexual behavior." The former "Today" show host reportedly had an affair with a production assistant. Variety published an expose on Lauer's inappropriate behavior and reported the television personality had a secret button in his office that locked his door without him having to get up.
NBC has not named a replacement for Lauer.