Model Amber Rose says she has 'lesbianic feelings' toward Ronda Rousey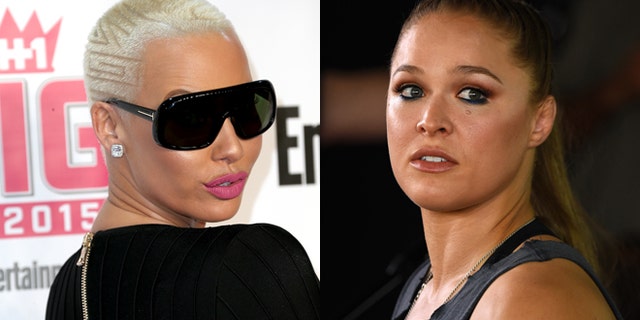 Former UFC champion Ronda Rousey may be sad and embarrassed about her loss to Holly Holm last month, but at least now she knows that there's one more set of shoulders available for her to cry on.
The Philadelphia-born model-actress, Amber Rose, told TMZ that she has "lesbianic feelings" for the formerly undefeated Rousey. "Totally," she added as she got into a car.
When the TMZ reporter brought up that Rose name-checks the fighter in her Twitter bio ("Femininely badass as f--- – Ronda Rousey" reads part of her profile), the model said, "That's my baby. I have lesbianic feelings for Ronda. Totally."
The reporter asked if Rousey, who has a boyfriend, was aware of her feelings.
"She does now," the self-styled provocateur answered, jokingly.
Rousey may not care too much. She recently confirmed that she's romantically involved with UFC heavyweight Travis Browne.
"It's true that Travis and I are in a relationship," she told ESPN in October. "I've really enjoyed the time we have spent together and getting to know one another. And that's all I'm going to say about it."
This isn't the first time that Rose has declared a girl-crush on a fellow performer. Earlier this year, she posted on her Instagram account a photo of "Wolf of Wall Street" actress Margot Robbie with the caption, "She is by far the hottest woman on the planet right now!" along with the hashtag #ImHavingLesbianicFeelings.
Rose added, "She's perfect."
Like us on Facebook
Follow us on Twitter & Instagram