Missing comedy club owner believed to be suffering from mental breakdown, family says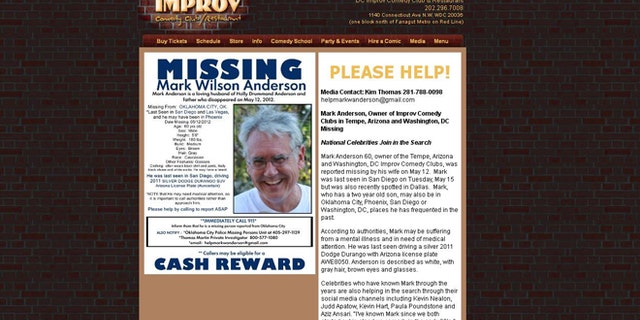 The owner of two legendary comedy clubs where several of the industry's top names have performed has gone missing after what his family described as a mental breakdown.
Mark Wilson Anderson, 60, who is the owner of an Arizona and Washington DC Improv Comedy Clubs, was reported missing by his wife on May 12. He was last seen after visiting a friend's house in San Diego. Since then, family members tell Fox411 that he has not accessed his bank account or used his cell phone.
"He has been under a lot of stress lately stemming from a dispute with a local comedy club competitor," his sister-in-law Kim Thomas told Fox411. "On Mother's Day, he asked my sister, his wife, to take their son and go to her mother's house because he believed they were in danger."
That was the last time Anderson's wife saw the club owner, who counts several comedians including Kevin Nealon, Judd Apatow, Kevin Hart and Aziz Anzari among his friends.
Anderson, described as a white male with gray hair, made a stop at a friend's house in San Diego, but disappeared without taking his suitcase or belongings with him very early the next morning.
"We are open to the possibility that he did indeed receive some kind of a threat, which may have pushed him over the edge. Some of the things he said to his friend in San Diego definitely confirmed that he is a bit outside the realm of reality," Thomas said.
Anderson previously suffered a breakdown 16 years ago, Thomas said. Earlier this month, he believed his wife had been killed and replaced by an actress, she added.
"We are worried about him and want him home safe so we can get him help," Thomas said.
The family has hired a private investigator.
Celebrities like Nealon have taken to social networks to aid in the search for Anderson.
"I've known Mark since we both started out in stand up comedy in the early 80's," Nealon said. "I've always been grateful for his friendship, sense of humor and admire his business savvy. My friend's disappearance causes me great concern and I pray that he is found safe and is reunited with his family."