Miranda Lambert was 'flipping plates' on restaurant guests during salad incident, 911 call reveals
NEWYou can now listen to Fox News articles!
A newly released 911 call from Nashville's Stoney River Steakhouse reveals a frantic restaurant employee telling dispatchers country singer Miranda Lambert "is trying to hit people, and she's flipping plates over on them."
Lambert reportedly was dining at the chain restaurant with her mother and a male friend over the weekend when things took a heated turn and ended with the "Kerosene" singer reportedly dumping a salad in a fellow diner's lap.
MIRANDA LAMBERT DUMPS SALAD ON WOMAN DURING ARGUMENT: REPORT
According to the 911 call obtained by The Tennessean on Friday, a concerned restaurant employee called police and told them, "I have two guests about to get into a fistfight...Miranda Lambert...She just ran out the door and got into it with another couple right here...I'm sorry my manager just said call 911."
In another call to police that night, a 911 dispatcher askes a restaurant employee, "Why were they trying to fight?"
The employee responded, "Something happened in the restaurant between these two gentlemen, and another gentleman walked up to her table and started cussing him out. This is the third time they've gotten into it, and now Miranda is trying to hit people, and she's flipping plates over on them."
MIRANDA LAMBERT'S BLAKE SHELTON SLAM: 'I GOT THE HELL OUT OF OKLAHOMA'
In another call, an employee told the 911 dispatcher they needed police help.
"There's an altercation between two guests, and it's about to get physical. Our managers are trying to hold them back but we can't," the woman said according to the 911 call. She said one of the men was in his 30s and the other in his 60s.
Nashville Metro police spokeswoman Kris Mumford told the outlet that officers responded to the fight call but no report was taken.
"No one at the restaurant would do anything either, so no report was taken," she said.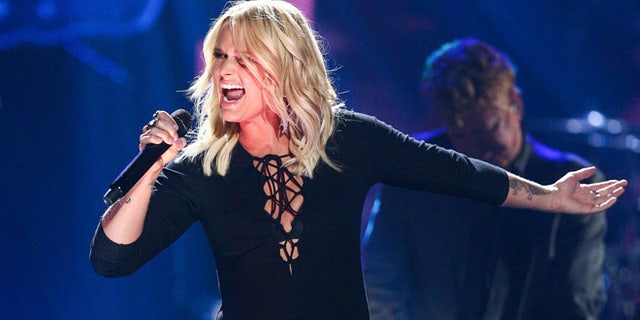 MIRANDA LAMBERT SAYS SHE 'HAD TO SING WITH SOMEONE WITH A PENIS' TO GET ANOTHER NO. 1 SONG
A rep for Lambert did not immediately return Fox News' request for comment.
As previously reported by TMZ, a man at the restaurant started an altercation with Lambert's male friend in the men's restroom over a statement about millennials and their cellphones. When the man later approached Lambert's table and started screaming, the two-time Grammy Award-winner reportedly dumped a salad in his wife's lap.
TMZ obtained a recording of what happened next, which appeared to be shot from a bystander's table, which the outlet said showed the man yelling at the star's pal. The clip then cuts to a shot that reportedly showed Lambert leaving the restaurant.
CLICK HERE TO GET THE FOX NEWS APP
The salad was also apparently not the star's meal, but rather belonged to the man's wife, TMZ said.