Miley Cyrus shows off weed-themed gift bags from Snoop Dogg at Liam Hemsworth's birthday party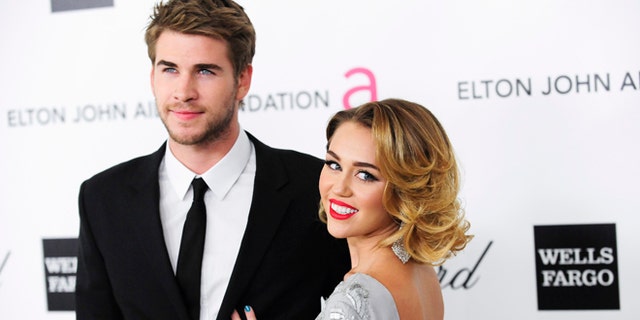 NEWYou can now listen to Fox News articles!
Snoop Dogg is hooked up Liam Hemsworth's bday bash!
The Australian actor celebrated his 27th birthday on Friday with a whimsical, weed filled party, documented by none other than his girlfriend, Miley Cyrus.
RELATED: All the Times Miley Cyrus Looked Like a Whimsical Goddess Next to a Preppy Liam Hemsworth
"@merryjane hooked it up! Wowzyyyyyyyy! Thanks Uncle @snoopdogg for being such a dope ganja innovator," Cyrus captioned a snap of herself standing by the giveaway table, wearing a wreath of money in front of a sign labeled "Weed!!!"
WATCH: Miley Cyrus Nurses Her Hangover After Ringing in the New Year With Liam Hemsworth
Elsa Pataky, who is married to Hemsworth's older brother, Chris Hemsworth, also shared pics from the bash on her Instagram account.
"We won't be hungry!!!" Pataky captioned a shot of a huge box of cheese pizza.
"Best party ever!! Happy birthday bro liam!!/ que fieston!! feliz cumpleanos bro liam! #liambirthday #cunaadachunga @silvia.serra #rapparty," she wrote alongside another snap.
WATCH: Miley Cyrus Gives Liam Hemsworth a Holiday Smooch, Shares Pics of Sweet Christmas Gifts and Their Adorable Dog
"Thanks for all the birthday wishes everyone! Lots of love!" Hemsworth wrote alongside a pic of himself dressed as Buddy the Elf, thanking fans for all the birthday love.
RELATED: Miley Cyrus and Liam Hemsworth Rock Ugly Christmas Sweaters For Holiday Party With Chris Hemsworth and Elsa Pataky
Before all the birthday festivities, Cyrus shared a heartfelt birthday message to her "favorite being EVER EVER EVER!"