Miley Cyrus' racy VMA outfit most popular Halloween costume of 2013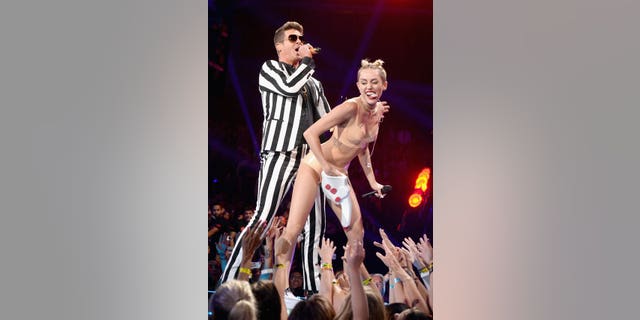 Twerk or treat!
The most anticipated Halloween costume of the year has arrived — and it's flying off store shelves.
The tongue-wagging, twerking Miley Cyrus stripped down from her teddy bear suit to her 'birthday suit' in a matter of minutes at the VMAs, while seductively dancing on Robin Thicke, and pointing her red-nail foam finger. Not only is her performance now infamous, but the songstress has earned herself a new title — she's the most popular Halloween costume of the year.
Amazon.com has provided a list full of vendors that are selling several versions of the outfit to perfect the look for Halloween. The red-nailed foam twerk finger is the definite top seller of them all — and it's clearly a necessity if you're just being Miley, y'all.
To complete the look, throw on a pair of white sneakers and divide your hair into two mini buns with a captivating red lip — and get ready to twerk the night away.
What do YOU think of Miley's costume? Would you wear it for Halloween?