Miley Cyrus: I made history at the MTV VMAs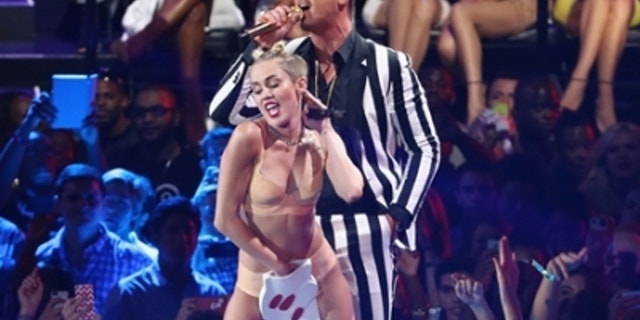 After much too much media hoopla, Miley Cyrus is finally tossing in her two cents about her controversial, twerk-tastic performance with Robin Thicke at this year's MTV Video Music Awards.
"I don't pay attention to the negative because I've seen this play out so many times," the former Disney star says of her detractors in an MTV News interview. "How many times have we seen this play out in pop music?"
"Madonna's done it. Britney's done it," she continues. "Every VMA performance, that's what you're looking for; you're wanting to make history."
Lest we forget, Madonna left tongues wagging after rolling around in a wedding gown for her iconic "Like A Virgin" performance at the 1984 VMAs. Britney followed suit in 2001, dancing with a boa constrictor to her "I'm a Slave 4 U." Then the two teamed up to really raise the bar in 2003, sharing an infamous kiss.
Even before taking the stage this year, Miley knew she would be joining the ranks of those stand-out VMA performances.
"Me and Robin the whole time said, 'You know we're about to make history right now," she recalls.
"What's amazing is … people are still talking about it. They're overthinking it," she adds. "You're thinking about it more than I thought about it when I did it. Like, I didn't even think about it 'cause that's just me!"
Maybe now we can put the Miley talk to rest.
var chartbeat_zone = "category";