Michael Phelps' newest challenger is his 'hardest race' yet
NEW YORK – Michael Phelps retired following the 2016 Olympics in Rio de Janeiro, making him the most decorated Olympian of all time with 28 medals, 23 of which are gold. But the world's greatest swimmer has one more race left, this time against his most challenging opponent yet -- a great white shark.
"It was a tough a race, probably the hardest race I've ever had," Phelps told Fox News on Thursday.
For someone who has lost very few races during his career, not too many people have faith that he can win – perhaps given the fact that great white sharks reach speeds up to 25 mph, and Phelps clocks in around 6 mph, per ESPN.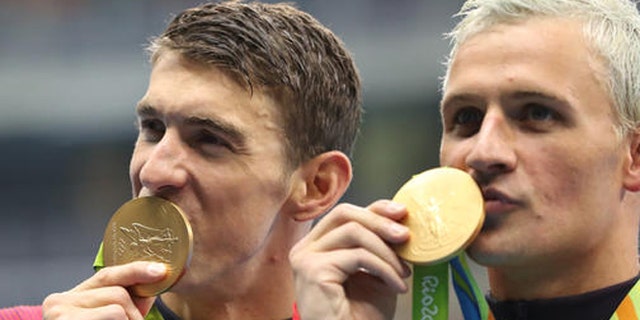 Ryan Lochte doesn't even have faith in his former teammate, telling TMZ "hell no," when asked whether Phelps' can pull of the upset.
"Swimming in open water, with current and cold water," was also a big adjustment from the typical pool setting, Phelps said. However, Discovery outfitted the Olympian with some technology to make things more even.
"We were able to add some help with the monofin, and being able to have a wetsuit gave a little bit of help towards me," Phelps said. "I think the odds are pretty stacked in the shark's favor, but you guys will have to wait and see to see what happens."
The 100-meter race will take place off the coast of Cape Town, South Africa, and is something that has been on the 32-year-old's "bucket list forever."
"It was honestly just something I've always wanted to do, being in the water with a shark. Whether it's in a cage, or just swimming freely in the ocean…having the chance to literally see these animals up close and personal in their home, it topped so many things that I've done -- just being able to see how they truly are," Said Phelps. "I was literally within a foot from two different sharks that were that close to my face, one in a cage one, out of the cage."
Phelps isn't the first Olympian to test their skills against an animal, track and field legend Jesse Owens outran a horse in Havana, Cuba – to be fair, he was given a 40-yard head start. So, who knows, maybe he has a shot after all.
"Phelps vs. Shark: Great Gold vs. Great White" airs Sunday, July 23rd at 8pm eastern on Discovery.