Michael Buble announces he and Luisana Lopilato are expecting a baby girl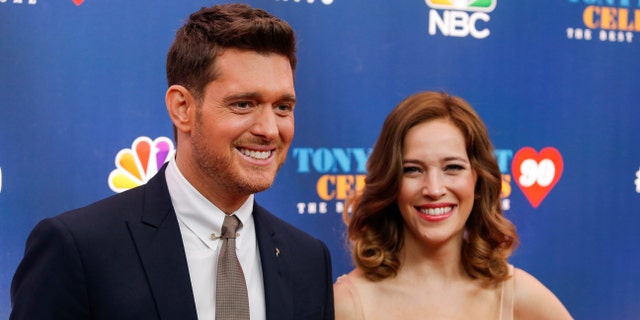 Michael Buble will soon have a daughter!
Earlier this week, the 42-year-old singer confirmed the happy news on Irish radio show Today FM.
"I've got my first little girl coming in three weeks, and I've actually never said that before in public," Buble giddily announced to host Ian Dempsey. "I've got a daughter coming."
MICHAEL BUBLE AND HIS WIFE LUISANA LOPILATO SHOW PDA
The news comes after ET confirmed that Buble and wife Luisana Lopilato were expecting baby number three back in February. The couple also has two sons, 2-year-old Elias and 4-year-old Noah.
The Buble family certainly has a lot to celebrate. Along with the new baby on the way, Lopiato confirmed last July that "the worst is over" for their son, Noah, who was diagnosed with cancer back in November 2016.
In December, a source confirmed to ET that Noah was "doing very well."
"When Noah received a cancer diagnosis, Michael immediately made the decision to step away from his work. It was really a scary time for everyone," the source said, calling Noah "an energetic little boy!"
MICHAEL BUBLE SAYS HE HAS A NEW 'PERSPECTIVE' ON LIFE FOLLOWING SON NOAH'S CANCER BATTLE
On the radio show, Buble spoke about what his family's personal struggles have taught him about his life and career -- he's set to perform at Croke Park in Dublin, Ireland, this weekend, marking his first performance since he stopped touring in 2016 to take care of his son.
"I've been through a lot and one of the things [about] going through something that my family's been through is that it gives you great perspective," the "Haven't Met You Yet" singer said.
"One of those points of perspective is it really allows you to appreciate the good things and I can't wait [to perform]. I can't wait! I've missed being out there. I've missed that connection. I've missed singing my guts out and laughing and really being connected to all of those beautiful souls out there."
MICHAEL BUBLE AND LUISANA LOPILATO EXPECTING BABY NO. 3
He continued, "I love that I get to go out there and stand in front of those people at Croke and take them away for a few hours. It's always been what I enjoyed and it's a real pleasure and honor to be able to do it."