Mexico won't send representative to Miss Universe pageant after Televisa pulls out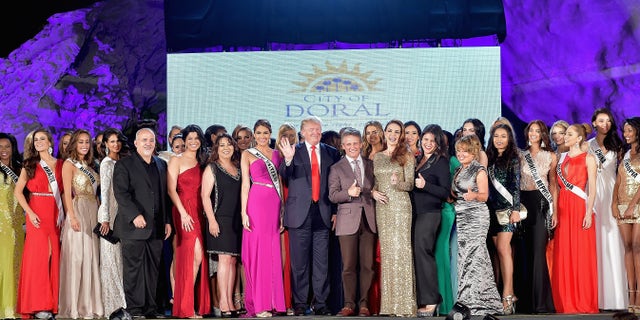 NEWYou can now listen to Fox News articles!
There will be no Miss Mexico at the next Miss Universe pageant.
Former Miss Universe Lupita Jones, who is in charge of Mexico's pageant selection, confirmed the news via Twitter on Monday after Mexican media giant Televisa announced it would no longer broadcast the annual pageant or engage any other project with Donald Trump.
"As a Mexican, I feel very offended and indignant like everyone else, as Miss Universe I think Donald Trump is doing great harm to the organization," she tweeted in Spanish. "Miss Universe is a contest with a great history in the world, which has been characterized by convening countries to participate in an event where friendship and unity is prominent, breaking down cultural barriers."
She continued: "It's a shame that because of his racist comments we lose what the competition has promoted and represented for so many years in an atmosphere of harmony and peace among nations; therefore, and in accordance to the statement by Televisa, we will not participate in Miss Universe."
Televisa and Jones organize the pageant, Nuestra Belleza Mexico, that selects the Mexican candidate for the contest.
In a statement Monday night, Televisa said its decision comes in the wake of "disrespectful" remarks by Trump that the company says offended the entire Mexican population. The spokesperson said the media company "strongly rejects all forms of discrimination, racism and xenophobia."
Televisa's decision is the most recent of a growing list of networks and celebrities pulling their support from Trump and his Miss Universe Organization after his remarks earlier this month.
On Monday, NBC Universal also announced it would end its relationship with the business mogul.
"At NBC, respect and dignity for all people are cornerstones of our values. Due to the recent derogatory statements by Donald Trump regarding immigrants, NBCUniversal is ending its business relationship with Mr. Trump," the network said in a statement released Monday.
This followed an announcement by Spanish-language network Univision that it would not broadcast the Miss USA pageant on July 12 and severed its ties with the Miss Universe Organization. Actress Roselyn Sanchez cancelled her appearance as co-host of Miss USA and and singer J Balvin pulled out as a performer.
While Trump did not respond immediately to the decision by Televisa. He has said that he was considering suing NBC for violating its contract.
"If NBC is so weak and so foolish to not understand the serious illegal immigration problem in the United States, coupled with the horrendous and unfair trade deals we are making with Mexico, then their contract violating closure of Miss Universe/Miss USA will be determined in court," he said in a statement early Monday. Trump has also said it would sue Univision for breach of contract and defamation.
As for the Miss Universe Organization, they issued a statement stating they were "disheartened" by the recent events.
"We are disheartened by recent events but the show will go on," the organization wrote in an Instragram post. "The Miss Universe Organization is built on a foundation of inclusion and continues to be a celebration of diversity and of all cultures. This year's Miss USA contestants represent many different ethnic backgrounds, including six Latinas (four of whom are of Mexican descent.)"
It continued: "Annually, nearly ten thousand young women all around the world participate in Miss Universe pageant events. We continue to welcome those from all backgrounds to enter our system. Our franchisees work tirelessly every day to empower young women to be confident and to be their personal best while raising awareness and millions of dollars for philanthropic endeavors."
"While world politics and other influences will undoubtedly play a role, the pageant will always seek to transcend controversy. It is unfortunate that recent events beyond our control have only served to negatively impact the women who participate in the pageant, our state directors, our sponsors and our fans. We want our supporters to know we remain committed to them and we will be conducting the pageant, regardless of the current situation. We are moving forward, full-steam ahead as planned for the next two weeks, culminating in the crowning of a new Miss USA on July 12th."
According to Reuters, Ora TV, a Television company co-founded by Mexican billionaire Carlos Slim and TV personality Larry King, also canceled a program it was working with some of Trump's companies.
During his presidential kickoff speech, Trump said Mexican immigrants are "bringing drugs, they're bringing crime, they're rapists and some, I assume, are good people." He advocated building a wall along the United States' southern border.
Like us on Facebook
Follow us on Twitter & Instagram